On May 13, smack in the middle of Mother's Day weekend, birders fanned out across the world to count birds as well as bird species. Organized by eBird, an online bird observation platform run by the Cornell Lab of Ornithology, the Global Big Day aims to get as many birders out in field within a 24 hour period as possible.
I've recently become an avid user of eBird again, and I made sure to submit three checklists on May 13. I visited Gulf Islands National Seashore along the Florida Panhandle, setting up a beach chair with friends on the bright white sugar sand facing the water. My first tallies were made during stationary observation, using binoculars to identify different seabird and shorebird species as they ran or flew by. My favorite? The dark silhouettes of Black Terns speeding by in small groups as they migrated from South America to the northern United States and Canada. Next up: I walked half a mile down the beach, picking up the unique forms of Black Skimmers as they flew low across the surface of the water. Last but not least, I took a stroll down the Navarre Fishing Pier. At the end of the day, I had logged 20 species.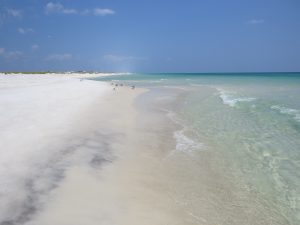 I wasn't alone. Nearly 20,000 birders just like me in 150 countries submitted 50,000 checklists of the birds they recorded. All in all, 6,564 species had been seen, representing more than 60% of the global birds species and a "new record for the number of bird species reported in a single day."
Staff at eBird highlighted some interesting birding competition:
"This year (as in previous Global Big Days), the friendly competition in South America continued to evolve as an inspiring story, with four countries topping 1,000 for the single-day tally: Brazil, Ecuador, Peru, and Colombia. In past years Brazil and Peru had always vied for the #1 slot for species totals, and in 2017 we have a new champion: Colombia."
Birders in Colombia recorded 1,486 species in total. I hope I can bird in this biodiversity-rich country someday!
Scientists and researchers will use the information from the Global Big Day to track the home ranges and movements of species, providing critical data about the effects of climate change, human development and more.