In the midst of patchwork agricultural fields, grown tall with corn, my husband and I discovered Moores Creek National Battlefield.
I use the word "discover" loosely, as the battlefield is clearly marked on the rural North Carolina road. But we were in the middle of a long driving trip from Florida to Maine then back again, and didn't realize we were on track to hit a national park system site until we were practically upon it.
Luckily, I had my Centennial Edition National Park passport with me, ready to be stamped. Glad for a break from the car, my husband and I slowly walked the paved mile loop around the property, reading the historic markers and educational signs. Thunderstorms had passed on and off throughout the day, and the meadow in the center of the circle steamed while tiny water droplets dripped from the deep green needles of surrounding pine trees.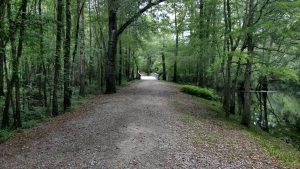 The park commemorates a decisive victory for the Patriots in the Revolutionary War. As the website explains:
In the early morning hours of February 27, 1776 Loyalist forces charged across a partially dismantled Moores Creek Bridge. Beyond the bridge, nearly 1,000 North Carolina Patriots waited quietly with cannons and muskets poised to fire. This battle marked the last broadsword charge by Scottish Highlanders and the first significant victory for the Patriots in the American Revolution.
The park is also a hotspot for wildlife, marked as such on eBird, a birding application run by the Cornell Lab of Ornithology. We saw common species like the Carolina Chickadee and Red-blooded Woodpecker, but also less frequently seen but colorful Red-headed Woodpeckers and Prothonotary Warblers.
The latter are neotropical warblers migrating north every spring from Central and South America to breed in the Southeastern United States. Two pairs buzzed around us, one particularly golden male feeding just a few feet from where we stood on a raised wooden boardwalk crossing the swamp area near the creek. Blue wings contrasted with his bright yellow body, almost glowing in the gloom of the forest floor.
I had never seen one so close before, but I wasn't surprised they were within the park; Prothonotary Warblers are nicknamed "Swamp Warblers," and the land bordering the creeks was definitely wet.
In addition to learning about the Revolutionary War history of the area, I counted 15 species and more than 25 individual birds. Not bad for a road-side pit-stop!