When someone asks if I feel like I'm missing out on main campus in my semester at the Marine Lab, I ask them: Do you get to spend your Saturday digging around in murky waters for chunky clams to cook for dinner?
That was exactly what we decided to do last weekend. As a responsible marine fisheries policy student, the first thing I looked up was whether we needed a licence for recreational collection of shellfish for food. Turns out, the North Carolina Department of Environmental Quality (NCDEQ) does not require a recreational licence in state waters (0-3 miles offshore). However, there is a 100 clams per day bag limit for hard clams of a minimum 1-inch thick size and a 1 bushel per day bag limit for oysters of a minimum 3-inch shell length. As filter feeders, clams and oysters are important for maintaining water quality in the environment. I was surprised to find that no stock assessment exists for the clams — until I remembered from class that shellfish aquaculture is a booming trade, where most regulations focus on the leasing of waters and commercial harvesting practices rather than the relatively smaller impact of recreational collection.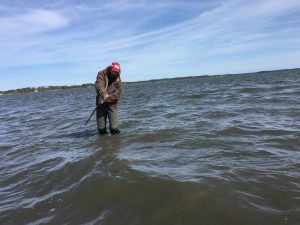 Initially, I naively thought 100 clams a day would be easy-peasy work for us college students who suffer the illusion of being infallible in the prime of our youths. Fuelled by hunger and armed with clam rakes, we headed to North River under the leadership of Joe. The wind was blustering but the water was surprisingly warm. The waders we scavenged from the lab proved useless as a comically disastrous attempt at piggybacking in soft mud landed Sam and I in the knee-deep waters. Soaked in seawater and amusement, we raked through the mud like treasure-hunters after gold. The clams were about the size of your palm, satisfyingly hefty, its firm shell ridged with the lines of age and decorated with ulva seaweed (which incidentally has a pleasantly slimy texture).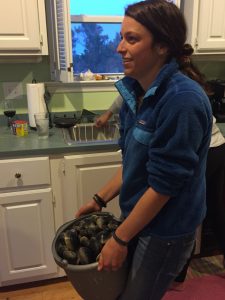 The work was harder than expected, our backs hunched and shoulders tensed, dragging along for the occasional jackpot. Meanwhile, our much more experienced chief-of-operations turned up clams left, right and centre. We attracted a couple of onlookers, but were mostly left to ourselves out in the middle of the water. It was deeply fulfilling, working for our dinner among great company. Admittedly, I couldn't help thinking about a paper by Griffiths et al. published in Marine Biology (2006) that documented detrimental effects of clam-digging on non-target invertebrate communities, likely resulting from the disturbance of the sediment. My only solace was that NCDEQ has limits on the fishery, including designated areas for harvest and only certain open windows in the year.
We baked the oysters and made chowder with the clams. It's hard to get seafood any fresher than a one-hour turnaround time from sea to plate. Admittedly, the shellfish had an extra crunch of sand you won't find in the farmed molluscs in Down East; but it also has the extra crunch of satisfaction knowing that you collected it yourself with as minimal impact as possible.