Before fall break, a couple of friends and I planned to go out to coastal North Carolina for a weekend of desperately-needed fun and relaxation by the beach. As the week wore on, with great despondency, we followed the daily coverage of Hurricane Matthew's devastating track up the coast and faced the inevitable conclusion that our planned trip was not to be.
A cancelled fall break is perhaps the least important of all the consequences the category 5 hurricane has wrought. As it brewed across the Caribbean, islands in the Lesser Antilles suffered from flooding and infrastructural damage. Most prominently, the storm struck Haiti as a Category 4 hurricane, with the death toll reaching up to 1000, with hundreds more missing, injured, and homeless.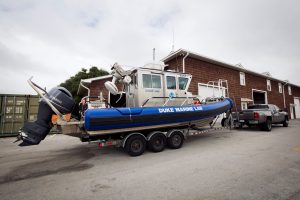 In the U.S., Florida and Georgia experienced devastatingly high winds and power outages. Closer to home in the Carolinas, my roommate and I holed up in our room, ordering delivery and not stepping out into the lashing rain on the Saturday. Meanwhile, Governor McCory declared a state of emergency and mandatory evacuation of coastal counties in North Carolina.
A week later, we decided to take a belated fall break at the Duke Marine Lab. Driving east on Friday evening, we stopped by Kinston for a bite at 7 pm. Our first choice of Chick-fil-A was closed, with a piece of paper labelled "CURFEW" taped to the door. For some reason, it didn't raise any red flags, and we trooped over to Wendy's instead. A burger and a Frosty later, we finally decided to ask the staff what the curfew is about. Boy were we in for a rude surprise: the US-70 to Beaufort is still flooded, Lenoir County was on a 8 pm curfew, and all cars were to be off the road by 9 pm.
I had known that I-95 and I-40 had closures thanks to flooding, but expected it to have subsided within days. Turns out, the Lumber River, Tar River, and Neuse River, that run through eastern North Carolina, had risen to record levels. Even a week after the hurricane had passed, multiple major highways and even more small roads that run through rural areas remain washed out. Eventually, my roommate and I found a detour with directions from the helpful people of the Kinston Fire Station. However, not all were as lucky. Cars have hydroplaned, people have had to be rescued from submerged vehicles, unfortunately, some have even drowned.
The last time the Neuse River crested as high was in 1999 after Hurricane Floyd, a similar Category 4 Atlantic hurricane. From that disaster, massive ecological and environmental health issues emerged. Freshwater runoff, pollution, and sediment washed into Pamlico Sound, depressing the oxygen and salinity levels in the short-term.
The most important lesson to be learned however, was the issue of hog waste water contamination. As the second largest hog producing state in the U.S., North Carolina's concentrated animal feeding operations (CAFO) produce 10 billion gallons of wet animal waste which fill massive, stagnant lagoons located in predominantly black neighbourhoods. Many of these lagoons flooded during Hurricane Floyd, washing animal waste into the rivers, with faecal coliform bacteria detected in drinking water sources.
The waters have subsided now, but the verdict is still out on how badly affected the CAFOs here are, and whether we should be concerned about water contamination. While we returned from the beach and back into the swing of school on our cushy campus, it is important to keep in mind our wider community as they rebuild they're homes, jobs, and lives.