I have never been to a fair quite like the North Carolina State Fair. I'm from Maine, and Maine is beautiful, but there aren't a whole lot of people. In fact, the whole state only has one telephone area code. So my previous experience with fairs has left me with no comparison for the throngs of people swarming the NC State Fair during the last Saturday night of October. There were the usual rides and famous fried foods, but there was also the unexpected Flower and Garden Show and bug-eating. Yes, I ate a bug at the NC State Fair.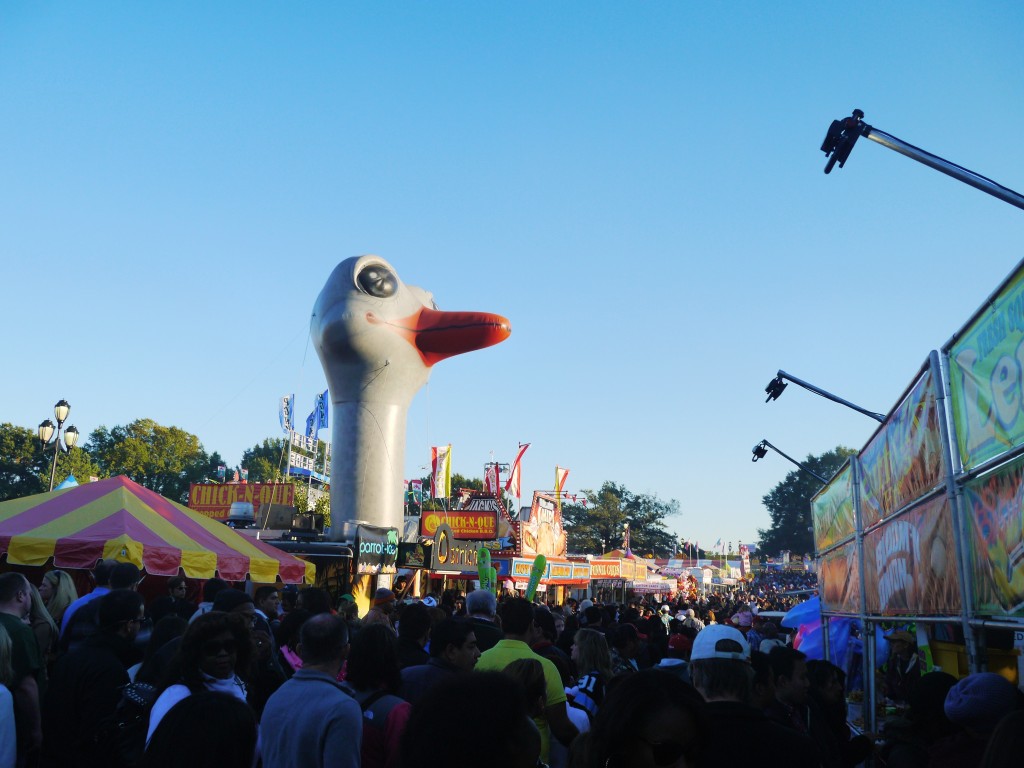 Upon entering gate #10, the first thing my friend and I did was find an ear of delicious steamed corn. It's not enough to just put butter on the steamed corn, oh no, they dip it entirely in a vat of melted butter. Once dipped, the customer has the option of adding his or her own blend of spices from a small table next to the window – but the butter is not optional. Continuing on, we spied an info booth and made for it like drowning shipwreck survivors. The lovely women working the booth pointed out the various landmarks of the fair in their friendly southern twang, and we figured out where we were standing and where we wanted to go. Swerving around campers, booths, and people people people, we headed towards a large patch of green on the map: the NC State Fairground Flower and Garden Show.
I'm not one for rides (to say that they terrify me is not even coming close to how truly afraid I am of carnival rides) so we were seeing what else the fair offered.  I wanted to see the Flower and Garden Show simply because someone told me it was pretty, but I never expected how truly magical it was. We arrived just as the sun set behind the trees in front of us. The first thing to greet us, of course, were beautiful red, white, and purple flowers covering a small plot right near the entrance. To one side were delicate bonsai trees, to another a man was showing a group of on-lookers how to make a wreath.
The bonsai trees were cool, and I'm all about arts and crafts, but the magic didn't quite begin until we strode further into the Flower and Garden Show. Weaving around the whole space, including over a bridge and up a small hill, we found plot after plot of meticulously planned gardens. Planted by nurseries, high school groups, and individuals, these plots were designed and implemented with explicit care, some with a Japanese garden theme, others entitled "conifer gardens," still others with fantasy themes like Alice and Wonderland. Each plot had been carefully judged and scored, with colorful ribbons indicating the winners. They were so perfect and beautiful, each plant placed just so to complete the overall design.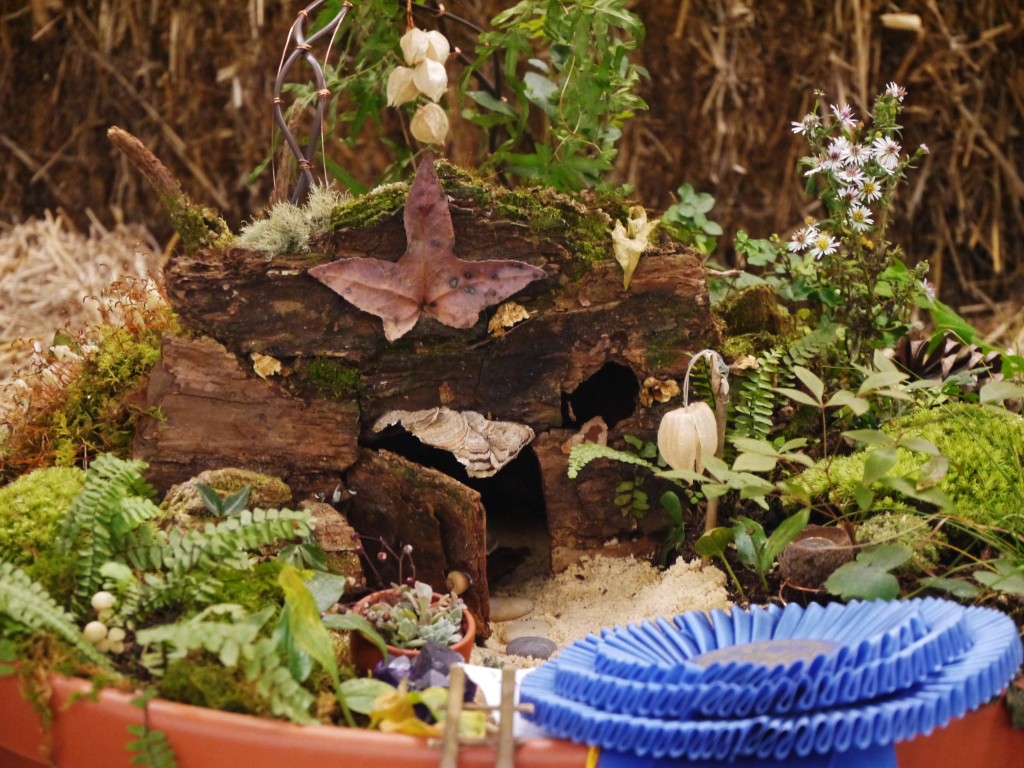 The competitions increased as we made our way back to the main building. Tiny fairy houses, constructed out of all natural materials, were judged on creativity and charm. Roses, lilies, bouquets, wreaths, and every kind of flower arrangement imaginable were set out in well lighted rows to be scored on petal perfection and beauty. Every time we turned a corner we saw something new and clever, like a tiny mushroom house or a wreath created out of birch-bark books. Say what you will about humans, we are a creative species.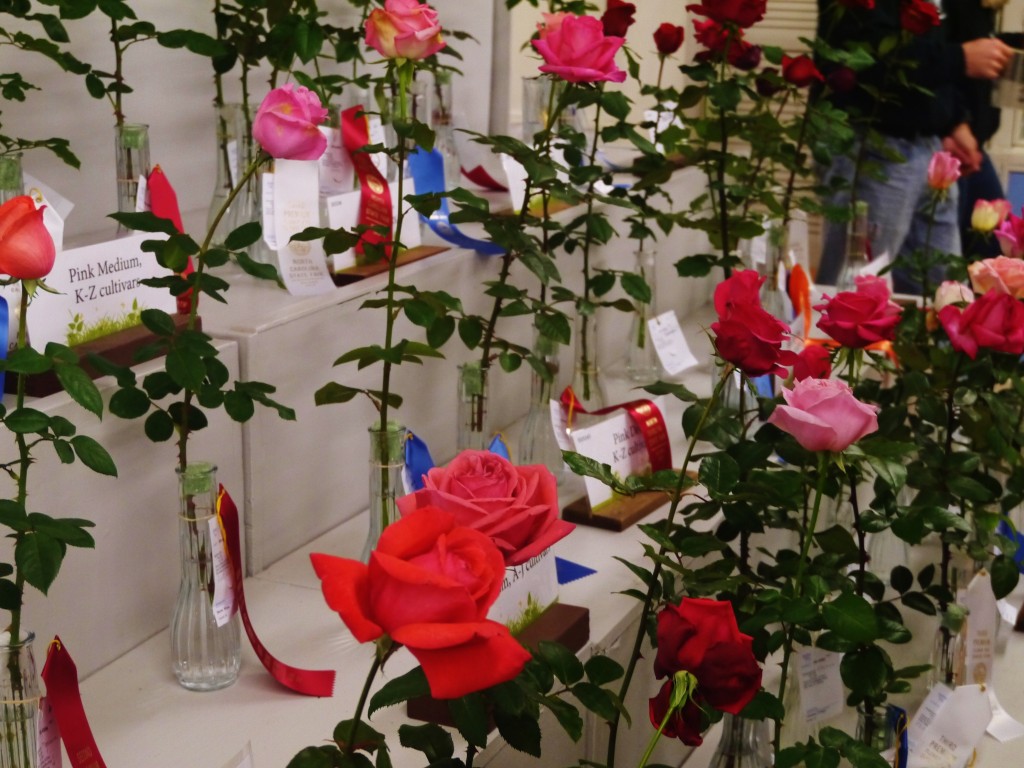 Finally dragging ourselves away from the garden, we entered the frenzied activity of the food stalls. Fair-goers stood in long lines in front of hot, smoking grills cooking dozens of giant turkey legs. There were candy apples, ice cream, french fries, sausages, taffy, candy, pizza, barbeque, and cotton candy from row after row after row of specially made stalls and squawking vendors. The most famous food at the NC State Fair? The fried food.
My first sampling came in the classic carnival form, the ever crave-worthy and powdery fried dough. From there, my friend and I headed to the mother of all fried food stands, which sold fried cheese cake, fried candy bars, red velvet fried dough, fried Oreos, fried onions, and even a burger with two Krispy Kreme donuts as buns and then fried. As famous as the latter option was around the fair, we opted instead for a tamer choice, the delicious fried mac and cheese. Arguably one of my favorite parts of my fair experience!
By the  time we had devoured our mac and cheese, it was dark, chilly, and time to work our way through the crowds back to our car. Still, I had one more NC State Fair culinary experience in store for me. Walking back, we passed a trailer lit up with a familiar name, "Duke." Turns out, a Duke research laboratory was running surveys on fair visitors in exchange for a dollar. I had spent quite a few dollars on fair entry and food, so I liked the prospect of making one back. Entering the well lit, warm trailer, I sat on the comfortable seats to fill out the consent form, then was ushered into a smaller room to face the oddest choice I had yet to make at the fair: which bug did I want to eat?
Once I made my choice – between a queen weaver ant, a field cricket, and a worker weaver ant – I would fill out a survey about my experience and other questions about things that gross me out. However, if I felt like I could not eat the bug, I could still fill out the survey and receive my one dollar. After considering for a moment, I decided to go for it, picking up the field cricket and popping it into my mouth.
Honestly, it wasn't that bad. The insects were well-dried, and I felt more like I was eating dirt than a bug. It was just one of the many activities at the fair I could never have imagined before walking through gate #10 that Saturday night. Like I said, it was the first time I had ever been given the opportunity to eat a bug, and what better time to try one than the NC State Fair?