I just can't get over Florida. Not the congested, built up, stereotypical Florida that so many people picture today, but the remaining wild landscapes. The plants are just so vibrant, and everywhere I look is green, green, green. 18th century English writer Charles Lamb wrote, "I am in love with the green earth," and I am its ardent admirer as well. Nowhere was this lushness more apparent than Hillsborough River State Park.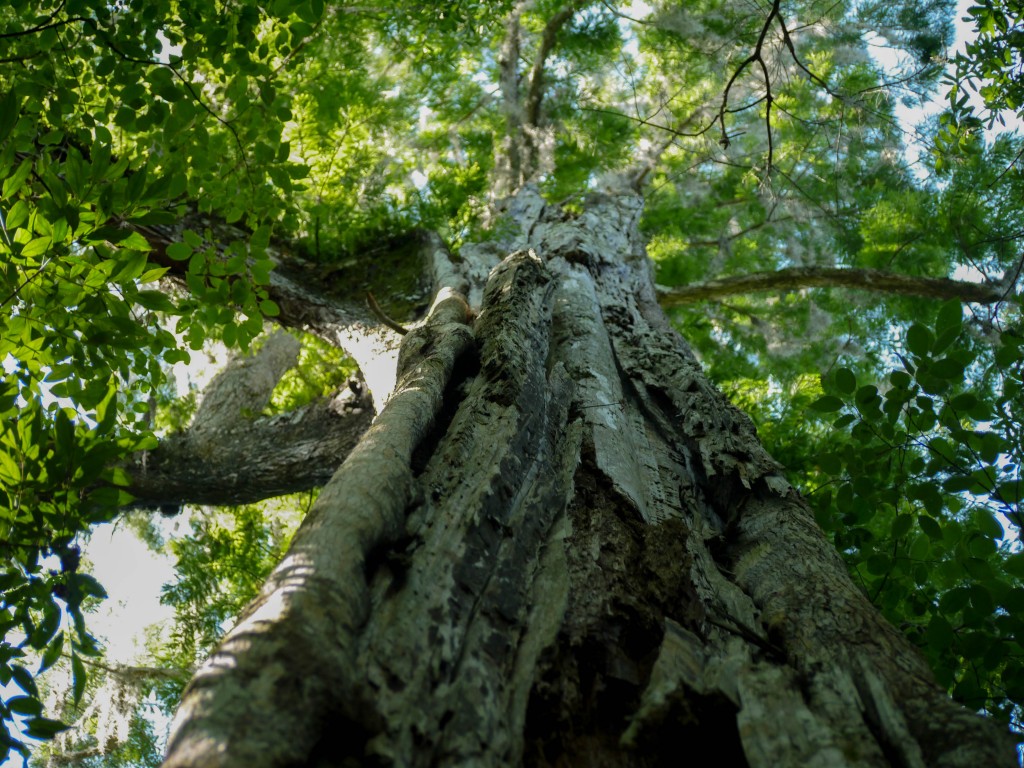 The park first opened its trails in 1938, making it one of the oldest state parks in Florida. Though the park does offer picnic areas and a popular swimming pool, my friend and I headed down one of the wooded trails and quickly all sounds of other people disappeared. Except when we were near the parking areas, we saw no one on the trails. The first path we chose followed the river, which boasts some of the state's few rapids as well as calmer, slower moving pockets of water. Cypress knees stuck up along the shore, and the wooden boardwalk zig-zagged its way farther into the woods.
Normally, it's the birds that catch and hold my eye on trips like these, but on this particular morning the plants took my full attention. Epiphytes dotted or completely covered the larger trees along the trail. What is an epiphyte? Before I began my studies at Duke I didn't know either. Put simply, epiphytes  are defined by Encyclopedia Britannica as "any plant that grows upon or is in some manner attached to another plant or object merely for physical support" (think orchids, Spanish moss,  or ferns). As we walked, I saw resurrection ferns covering tree trunks like arm hair, and tight spheres of ball-moss growing in direct sunlight.
It wasn't just the epiphytes that were impressive. Decades-old cypress trees stood tall in swampy depressions, stretching farther than my eye could see from my lowly position on the ground. Tall and small palm trees covered the forest floor, and here and there tiny patches of wildflowers peeked out from amidst the understory shadows.
Eventually it was time to switch trails, and the Wetlands Restoration Trail couldn't have been more different. Whereas the wooded trail had been shady and cool, the Wetlands Restoration Trail passed through fields and was open to the baking sun. Swallow-tailed kites swooped and glided far above us, their only sky companion a lone turkey vulture. By the time we reached this path it was almost noon, and not exactly prime time to see birds. Still, northern parulas called back and forth to each other, and tufted titmice were  as loud and gregarious as always.
Though the trail turned into forest, the track was too wide to afford much shade. Tired and hot, we retraced our steps through the trees and the fields and back to the car. It had been an amazing morning, and my head was full of new plant species I would have to head home to look up. Yet, nature wasn't quite finished putting on a show.
The last few hundred yards of the trail passed through a wet area dominated by tall pines. Barely feet from the parking area, I noticed a large shape hopping between the branches of a particularly huge tree. Zooming in with my camera lens, I caught sight of the distinctive crimson of the red-headed woodpecker! With their bright red heads contrasting sharply with their black and white bodies, they are truly beautiful birds,. While I have seen this species before, habitat destruction is causing a decline in their numbers, and a red-headed woodpecker sighting is both rare and very special. Not bad Florida! Not bad at all.