This article is a continuation of Exploring the Outer Banks for the First Time: Day One
7:00 a.m. Time to rise and shine.
Cell phone alarms buzzed us awake just as the sun was rising to herald a bright, sunny day in the Outer Banks. After a quick breakfast of Kroger cinnamon rolls my friends and I checked out of the hotel and reluctantly headed away from the beach.
Our first stop was at the Roanoke Island Marsh Game Land, described by the North Carolina Birding Trail  as a "40-acre water impoundment and a black needlerush marsh" where winter birders can hope to see Tundra Swans, Gadwalls, Northern Pintails, American Wigeons, and Green-Winged Teals. That was all very well and good, except we couldn't find the place. Turning off the main road, we looked for an entrance .3 miles from the intersection between US 64 and NC 345, but saw nothing. Turning around, we looked again. Still nothing. We tried GPS coordinates, and after more passes eventually turned onto a small dirt parking lot.
The game land was beautiful. Sunlight bounced off the standing water, blocked only by a few dead stumps jutting up out of the pond. Beautiful it was, full of waterfowl it was not. Perhaps they were pooling elsewhere this year, perhaps they left in the morning and flew back at night, but whatever the reason the only swimming bird we could see was a large gull.
Luckily there were plenty of songbirds around. Gray Catbirds – whose calls really do sound like unhappy felines – and more Yellow-rumped Warblers flitted in the low bushes and trees. A Belted Kingfisher landed on an upraised stump, then flew off into the woods again while chattering incessantly. We even  spooked a House Wren, a tiny, brown, secretive  bird with an upraised tail. Not bad, not bad at all.
9:00 a.m. Make the drive over to the Mattamuskeet National Wildlife Refuge.
As North Carolina's largest freshwater lake, Mattamuskeet is a duck, goose, and swan magnet in the winter. I thought I had seen a lot of ducks the day before at Pea Island National Wildlife Refuge, but it was nothing compared to the marshes we pulled into that Monday morning.
The water practically undulated with paddling birds. There were hundreds of American Coots, more pintails, shovelers, and Tundra Swans, plus Canada Geese and a few Blue-winged Teals. Birds of prey soared overhead, looking for their next meal. Every so often, a Northern Harrier would buzz the water, and the ducks and geese would be up like a shot. Thousands of wings beat the air as an avian mass rose into the sky, circled for a few moments, and then gracefully floated back down. Even when the ducks and geese were merely swimming the marsh was full of their quacks and murmurings. To say it was impressive was an understatement.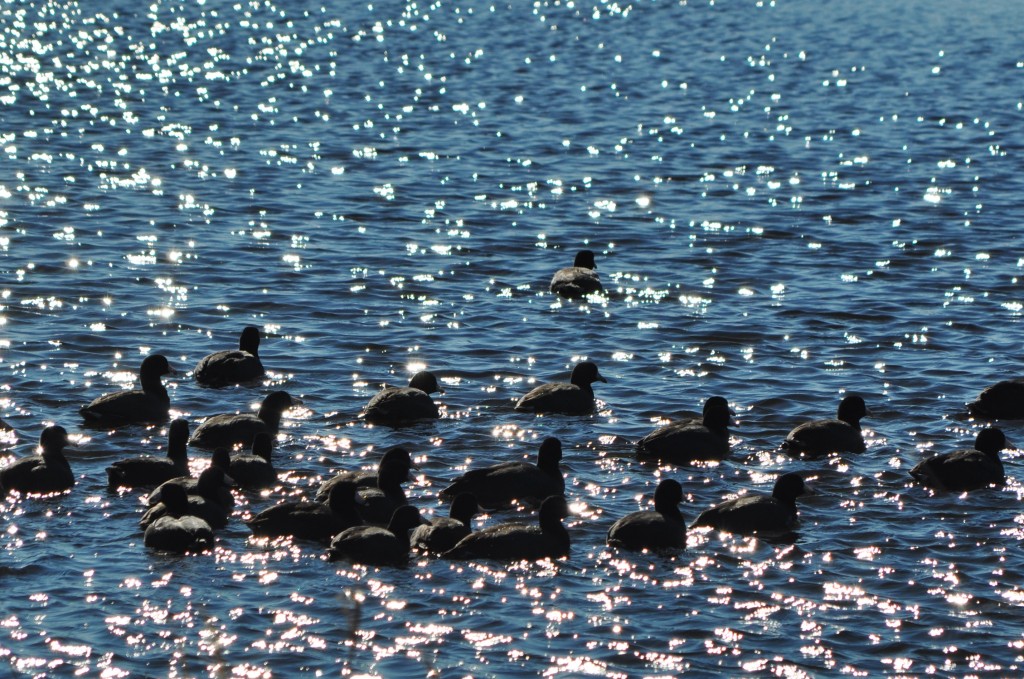 I have done very little car birding, but on that cold morning I have to say I became a fan. The part of the marsh we happened upon was between two dirt roads, one going in, the other heading out. From the car we kept the heat on, but the windows rolled down as we moved slowly forward. When a particularly interesting scene or bird caught our eyes, we stopped and jumped out.
One such interesting bird was a Wilson's Snipe, a tiny shorebird with a long bill and a ridiculously camouflaged body. It was merely by luck that we spotted the snipe in a clump of grass along the water, but it was my first Wilson's Snipe and I was thrilled!
We curved back the way we had come, tracing the opposite edge of the water. The road bordered the marsh on one side, and a calm waterway on the other. From there we watched a Pied-billed Grebe dive away from us, and a Great Egret catch a silvery, slippery fish in its bill and just hold it, as if posing for photos. Tiny Tree Swallows zipped back and forth, and my favorite Tundra Swans swam right near the road.
12:30 p.m.Back to Durham.
After Lake Mattamuskeet it was time to head home. The trip had been very successful: 49 species total, with four new lifebirds to add to my list. I cannot wait to head back to the Outer Banks, maybe even before the winter waterfowl have left for the season!