Life by the ocean offers unparalleled moments of stunning scenery. While these are wholly appreciated, some of us crave the forested landscapes and trails most of all.
I've been exploring local trails since moving to Beaufort three years ago, and have previously posted on my preferred routes – the Fort Macon trail in Atlantic Beach and the end of the Neusiok Trail in Havelock. These are wonderful for running and split their views between the forest and water.
The Emerald Isle Woods Park offers another refuge of forested trails with a water view. A 40-minute drive from the Marine Lab, this park is hidden in the suburbs of Coast Guard Road near the end of the barrier island. The park's relatively small size means that it's not ideal for long trail runs, but I typically pop in for a mile while running by on the Emerald Isle Bike Path, which passes by the park.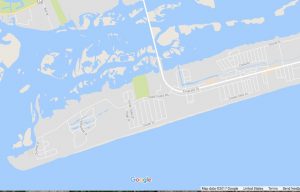 A special feature of the park is the boardwalk trail and dock that lead out to Bogue Sound. This offers a prime spot for bird-watching, fishing, kayak launching and sunset viewing. During the summer, one can also observe the scurrying fiddler crabs in the marsh grasses below. Depending on the tide, the view from the dock may look different each time you visit. When running through, I always trot down and take a minute to simply soak in the view of the sound and color of the sky.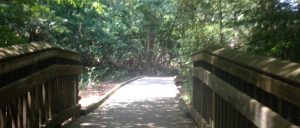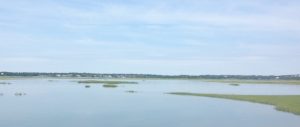 A few short trails wind through the park, connecting at various points on either side of a road that leads to the dirt parking lot. The trails are shaded by tall pine tree canopies, offering a respite from the glaring sun in summertime. The pine trees also bury the trails with layers of orange-brown pine needles, creating a comfortable, soft surface for running.
Other amenities in the park include restrooms, a shaded area with picnic tables and grills, and a new disc golf course. Foot bridges were also recently constructed over swampier areas of the trail. I give the Emerald Isle Woods a thumbs up and recommend exploring it when you have the chance to drive over on a weekend. The trails are also kid-friendly, as evidenced by the photos above. I've taken two trips over the past few years with our local Girl Scout troop and the girls still frequently talk about the park and ask when we are going back.
Hungry for more trails? My next trail review post will cover Patsy Pond in Newport. Until then, happy trails.