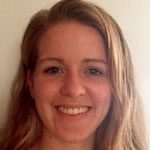 Sarah is a PhD student in the University Program in Ecology within the Nicholas School. Her motivation for pursuing graduate research comes from a desire to develop practical solutions to environmental problems, mostly those caused by the use of fossil fuels. Her research focuses on strategies for growing algae as a biofuel source. Sarah spent her first academic year in Durham and is now located at the Duke Marine Lab, where she's a member of Zackary Johnson's research group.
Sarah credits high school projects on the famous leaders Jane Goodall and John Muir for initially sparking her environmental passion, which has ultimately decided her academic path. She is a graduate of Cornell University in Ithaca, N.Y., where she majored in environmental engineering. Her undergraduate research experiences involved working with syngas-fermenting bacteria in a bioenergy lab, and with phytoplankton of the St. Lawrence River in a limnology lab. Outside of research, she is involved in multiple outreach activities that promote girls in STEM fields. Sarah is also highly addicted to distance running, having completed six marathons to date, and enjoys exploring local trails.
In "Fuel for Thought," Sarah muses on the fields of sustainability and energy from environmental, scientific and engineering perspectives, and shares her experiences as a graduate student in the Nicholas School.