Last week nine Nicholas School Master of Environmental Management and PhD students, as well as six undergraduates studying at the Marine Lab in Beaufort, joined me on a field trip to Mattamuskeet National Wildlife Refuge, the crown jewel of North Carolina's Serengeti (see my previous post on this special place). The Nicholas School Naturalists and Student Association of Wetland Scientists sponsored this trip for the third straight year.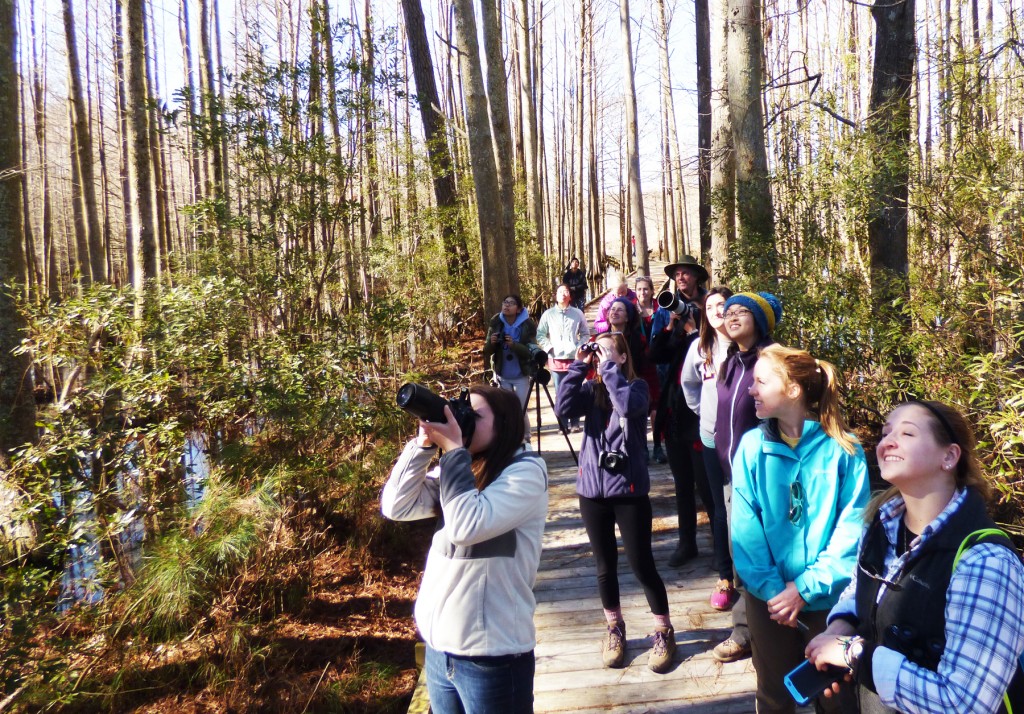 Each trip I take here is different. This time we enjoyed balmy conditions with highs in the 60s and abundant sunshine, a stark contrast to last year's trip in which the lake had recently frozen over for the first time since 1989. We wouldn't have noticed the difference if the mid-winter survey had not been posted (198,000 is still a lot of ducks, geese and swans! ) but apparently there were roughly 40 percent fewer waterfowl on the refuge this time compared to last year. Part of this difference might be related to the relatively milder winter allowing birds to overwinter further north, but refuge manager Pete Campbell explained that water quality is playing a role as well.
Many acres of farm fields drain into the lake, inevitably contributing excess leeched fertilizer. Typically this does not pose a severe problem on the east side of the lake, from which water can flush via three canals (relict from early efforts to drain the lake) into the adjacent Pamlico Sound. An unusual streak of rain in 2014 had kept water levels in the sound high, which all but prevented lake water from draining as usual, leaving fertilized water behind to fuel phytoplankton and algal blooms. The resulting poor light penetration led to a major decline (from ~75 to ~25 percent) in coverage of submerged aquatic vegetation, the primary food source for the overwintering waterfowl populations that rely heavily on the refuge. Where there were huge salad bars of delicious plants for ducks and swans last year, poor water quality left nothing but silty lake bottom. As a result huge flocks of hungry herbivores have been forced to forage elsewhere.
That's the working hypothesis anyway.  Fortunately the refuge has been able to bring on a water quality expert from US Geologic Survey to further refine our knowledge of the lake's water quality issues and hopefully come up with management solutions to continue to support high waterfowl populations in an increasingly variable climate.
If drier conditions return during the coming summer, the lake vegetation should return and bring with it the mega flocks of waterfowl of recent years passed. But with climate forecasters predicting an increase in the frequency of weather extremes, this high-water scenario is likely to happen again soon. Droughts too can have major impacts on the lake's bird food source by driving intrusion or inundation of salt water from the sound, as happened most recently in 2011.
An even greater, chronic and potentially intractable problem facing the refuge is the threat of sea level rise. It could bring both the poor nutrient flushing associated with higher sound levels, as well as drive salinization of the lake. The fear is that this double-whammy could irrevocably transform the lake into dramatically less productive waterfowl habitat. Since the refuge hosts a huge proportion of the Atlantic Flyway's duck and Tundra Swan populations (on the order of 10% some years), a collapse of Mattamuskeet alone could cause a significant dent without even considering the fact that other coastal habitats will likely be facing similar pressures.
For now though, even in a relatively "bad" year, the masses of birds are mind-boggling. We watched in awe as Bald Eagles glided overhead, scanning flocks for the weak or injured, fanning billowing clouds of ducks and coots ahead of its path.
In a twisted way, the food shortage on the lake was actually good news for my group of wildlife observers. Birds that might normally be distant specks were packed tightly into the refuge's many impoundments for easier viewing.
I had promised tornadoes worth of ducks and blankets of Tundra Swans and Mattamuskeet delivered as always.
I brought the group over to the east end of the refuge (closed to the public until March 1 each year) to show them my research plots, while I swapped out batteries and SD cards. As we trundled along an impoundment levy in our rental vans, four Sandhill Cranes flushed out of the marsh, dwarfing all other birds among a chaotic blend of fleeing swans and ducks. This was a rare find; in all the time I've spent on the refuge, never before had I stumbled upon a crane before.
What might these magnificent birds portend? Are they harbingers of bountiful times to come or were they driven to the refuge by some disturbance to their usual wintering spot?