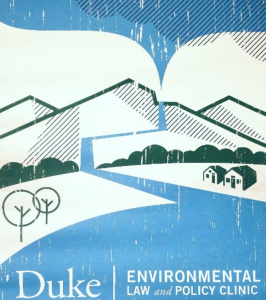 One part coursework. One part legal bootcamp. Two parts environmental consulting. And a dash of the adrenaline you get from trying to save the planet.
That's the basic recipe for Duke's Environmental Law & Policy Clinic, in which I am participating this semester as a second-year MEM student at the Nicholas School.
Uniquely among clinical offerings at Duke Law School, not to mention most environmental law clinics nationwide, the Environmental Law & Policy Clinic offers non-law students like myself the opportunity to dive headfirst into pro-bono legal cases. Every Nicholas School student matches up with a law student to manage the case, with additional support from the Clinic's staff attorneys and policy associates.
Case topics range from protecting water quality for local communities to navigating the policy landscape for sustainable agriculture. Some cases are brand new; others have been passed down among students through the Clinic's entire 10-year history.
My own case has taken me to the front lines of climate change politics in North Carolina.
With the federal government now dismantling clean energy regulations and walking away from international climate agreements, advocates are turning to legal strategies to compel policy action. Among these advocates are Hallie, Emily and Arya – three high school students from North Carolina's Triangle area.
On Nov. 14, Hallie, Emily and Arya filed a petition with the North Carolina Environmental Management Commission requesting that the Commission issue a rule to reduce North Carolina's emissions of carbon dioxide to zero by 2050. The three youth petitioners are part of a national movement of young people demanding that all levels of government protect a stable, healthy climate for future generations.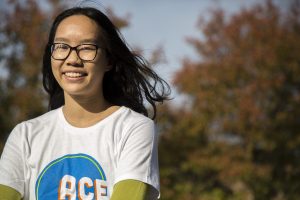 As part of the Clinic's team representing Hallie, Emily and Arya, I had the opportunity to provide input on the petition. I have also advised the youth petitioners as they take interviews with the media and draft an op-ed on climate change for a local paper.
Having an interdisciplinary team has been critical to managing the case. My background in climate change and energy policy has informed the technical aspects of the petition, while my law school counterparts refine the legal precedents and theories that support our arguments.
Although the Clinic counts for course credit, it feels more like a part-time job than another class. Clinic students must accrue 100 hours of client work by the end of the semester – a requirement that sounded daunting back in September, but now seems almost too easy.
Of course, like all my past part-time jobs, my work with the Clinic must come to an end. My team is now preparing a "transition memo" to help a new crop of students get up to speed when they take over our case in January.
Unlike most other part-time jobs, however, the Clinic has given me the opportunity to do work that really matters outside the classroom. I know I'll be following along well after the semester ends as Hallie, Emily and Arya try to enact climate change policy in North Carolina.
So, my advice to other Nicholas School and Law School students?
If you're looking for a way to make a difference on an environmental issue while learning a ton along the way, the Duke Environmental Law & Policy Clinic is the best recipe I know.
Feature photo: The Duke Clinic team meets with Hallie, Arya, and Emily at the Duke Law School. Photo c/o Alliance for Climate Education