It seems like an eternity since the last election.
I don't need to explain the serious soul-searching that many of us in the Nicholas School's environmental policy track had to do as the results rolled in. How many of our dreams of interning at the White House or EPA went up like chimney smoke the next morning?
Needless to say, this year was different.
It may not have been a major election – no seats in the federal government were on the ballot – but at the state level, Tuesday's election results made waves. And the unsung victor, in at least four major states, was action on climate change.
In Virginia, Lieutenant Governor Ralph Northam handily beat Republican Ed Gillespie to become governor-elect. Virginia's current Democratic governor, Terry McAuliffe, joined his state to the U.S. Climate Alliance, a group of states that pledges to adhere to goals of the Paris Climate Agreement despite the President's intention to withdraw the U.S. Northam will build on McAuliffe's legacy by committing Virginia to implementing the Clean Power Plan, even as the EPA moves to repeal that rule, and setting its own goals for reducing carbon emissions. Virginia would join 20 states and the District Columbia that have already set goals to reduce emissions.
In New Jersey, voters elected Democrat Phil Murphy to the governorship, ending eight years of Republican control under Chris Christie. Murphy has pledged to rejoin New Jersey to the Regional Greenhouse Gas Initiative (RGGI), a nine-state cap-and-trade system for electric power plants that Christie withdrew from in 2011. This is likely a good economic move, as RGGI contributed to $1.3 billion of growth among participating states in the three years after New Jersey left the program.
It's worth noting that Murphy's Republican opponent, Kim Guadagno, also promised to rejoin RGGI if elected. However, Murphy's stance on climate action goes much further: he proposes to develop a plan for New Jersey to reach 100% carbon-free electricity. If New Jersey adopts such a plan as an official state goal, it would be the most ambitious in the nation.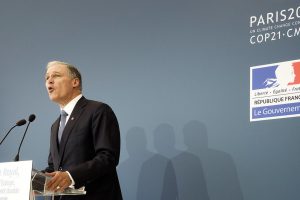 On the opposite coast, a state senate race in Washington gained national attention in large part because of its potential to change the politics of climate change in the Evergreen State. The GOP has held a one-seat majority in Washington's state senate, and has used its power to frustrate Governor Jay Inslee's grand plans for a statewide carbon cap-and-trade program similar to California's.
But that all changed on Tuesday, when Democrat Manka Dhingra won a special election for a recently deceased Republican senator's seat in the suburbs of Seattle. Now, the Democrats have the one-seat advantage in the state senate, completing a "blue wall" of Democratic control of legislative chambers up and down the West Coast.
That opens a new path forward for Gov. Inslee to enact a cap-and-trade policy or carbon tax in the legislature. He also plans to pursue joint initiatives with other West Coast states on energy efficiency, clean water and other environmental priorities.
While those states are taking steps to mitigate future climate change, Florida is feeling its effects now. Sunny-day flood events have become much more frequent due to sea-level rise, and damage from Hurricane Irma is expected to cost the state over $80 billion.
With climate change literally knocking on their back doors, Miami voters approved a bond initiative Tuesday that will direct nearly $200 million into climate-resilient infrastructure upgrades. Miami follows a small number of other cities, including Seattle and San Francisco, in passing bond measures to address sea-level rise concerns. Given the bond initiative's success in Miami, more cities are sure to follow.
The message of the 2017 elections on climate change is clear: if the federal government chooses to ignore the problem, states will act. In the months ahead, look for Virginia to set a target reducing its emissions; see if New Jersey becomes the first state to commit to 100% renewable energy; watch as Washington moves to put a price on carbon and Florida beefs up its defenses against rising seas.
Thankfully, the 2017 election was not a repeat of 2016 – and that's why I'm looking forward to a year of climate action in 2018.