Taxes are the latest issue to divide Congress along party lines.
Republicans plan to use special budget procedures when voting on the new tax reform bill, due out this week, to take away the filibuster option for Democrats. With a two-seat majority in the Senate and a comfortable margin in the House, Republicans thus have no reason to reach across the aisle and hammer out a tax proposal that both parties can support.
It's a familiar story, which has been played out over and over this year on bills to (unsuccessfully) repeal Obamacare and (successfully) roll back consumer protection rules, among others. It's tempting, in this polarized political environment, to declare bipartisanship officially dead.
But that would be wrong.
Meet the Climate Solutions Caucus in the U.S. House of Representatives. Founded in February 2016 by Rep. Carlos Curbelo (R-FL) and Rep. Ted Deutch (D-FL), the Caucus seeks to explore policy options that will address the causes of climate change, and help communities adapt to changes that are occurring now. (It's no accident that the two co-founders both come from low-lying Floridian districts that are already dealing with the effects of sea level rise.)
In just over a year and a half, the Climate Solutions Caucus has grown to 60 members of the House – 30 Democrats and 30 Republicans. That perfect bipartisanship is intentional: representatives can only join the Caucus two by two, one Republican for every Democrat. That important quirk has earned it the nickname "The Noah's Ark Caucus."
At a time when their party's standard-bearer has withdrawn the U.S. from the Paris Climate Agreement and professes a passionate love for coal, how in the world have so many Republicans lined up in support of climate change action?
The secret lies with the enlightened tactics of the Citizens Climate Lobby (CCL), the group that first hatched an idea for a bipartisan caucus in 2013. While many environmental NGOs draw in donors by bashing Trump and his party at every turn, CCL prefers instead to arrange cordial meetings with members of both parties and find common ground.
With this simple formula, CCL has made astounding progress to turn the political tides in favor of climate policy.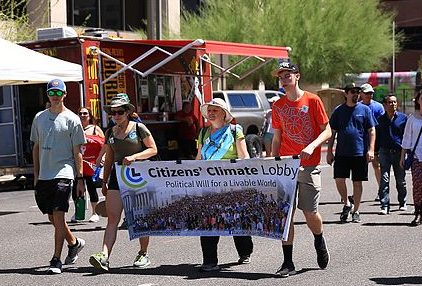 ---
I first connected with CCL last November. The election of Trump made me realize, like so many others, that the Obama-era playbook of top-down climate regulations would now be useless. If Republicans were going to control Congress and the White House, we couldn't afford to keep climate change a one-party issue.
So I did the most helpful thing I could think of: I Googled "bipartisan climate organization." CCL was the top hit.
After making sure they were legit, I signed up for the CCL newsletter and sent them some money. I knew I didn't really have time for extracurricular activism in the middle of grad school, but I also knew I would have to reach outside of the Nic School's environmentalist echo chamber to have any hope of changing the politics of climate change.
Earlier this month, I finally got my opportunity to get my feet wet in climate politics: the local CCL chapter had arranged an open meeting with the staff of Rep. Butterfield (D-NC), who represents Durham.
In between classes and homework on Friday afternoon, I biked over to Butterfield's local office, and was glad I had come – I was one of just three CCL members who showed up.
The conversation was both enlightening and encouraging. We went over CCL's policy proposal, which resembles a revenue-neutral carbon tax, and fielded questions and concerns from Butterfield's staff.
We also discussed the Climate Solutions Caucus. I was surprised to learn that so far, no North Carolina representatives – Democrat or Republican – have joined the Caucus, even though a state that is still recovering from last year's hurricane damage and faces massive property losses due to rising sea levels would clearly have a lot to gain from climate change solutions.
I left the meeting more sure than ever that conversations like this one, across the country in every local office of the 435 U.S. Representatives, is the best tactic we have to unlock congressional action on climate.
It's certainly not an overnight cure for climate denial and partisan gridlock, but at least it makes our elected officials talk candidly with their constituents about climate change. Rather than a war of words on TV and Twitter, we need a face-to-face exchange of ideas.
---
Someday soon, I hope to see Rep. Butterfield's name added to the growing member list of the Climate Solutions Caucus, maybe even alongside another North Carolina congressman from across the aisle.
Of course, joining the Caucus is just one step on a long road to enacting sensible climate change policies (the Caucus doesn't endorse any specific proposals), but it's a critical start to have both parties talk constructively about the problem. Unlike tax reform, healthcare and financial regulation, addressing climate change will never work as a one-party issue. We all need to pitch in to create a livable climate.
Even Congress.