Aquariums and zoos often describe themselves as educational institutions. For example, the Audubon Aquarium of the Americas, located in New Orleans, Louisiana, is part of the Audubon Nature Institute, which states as its mission:
We serve our visitors, our community and our world as an educational resource, an environmental guardian, a leader in economic development and a venue for family entertainment. The success of the Audubon family lies within the individual strengths of its facilities. Working together, they are helping to create a bright future for generations to come.
In a paper by Ballantyne et al., the authors explain that 140 million people go through Association of Zoos and Aquariums facilities every year, and that "Conservation messages in zoos and aquariums may encourage visitors to care for natural resources, maintain local habitats for wildlife and participate in local community-based efforts to restore and protect the environment" (Ballantyne et al. 2007). Visitors who listen to talks with live animals are more likely to answer questions about the animals correctly, and support conservation initiatives in the future. Additionally, exhibits that provide tools and tips for people to support conservation and pro-environmental actions in their own lives are more effective in linking knowledge with behavior change. The Audubon Aquarium had all this, and as I toured the exhibits over the weekend I fell in love with marine creatures all over again.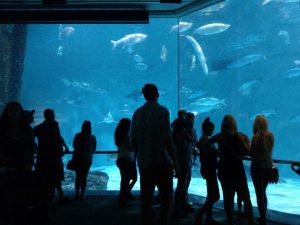 The aquarium sits on the banks of the Mississippi River near the city's famous French Quarter. Upon paying my entrance fee, I was ushered into the air-conditioned exhibits, starting with a glass tunnel where visitors are surrounded by Caribbean fish species. As my cousin, husband, and I made our way through the curved walkways and walls full of tanks, we marveled at colorful fish, large eels, delicate seahorses, and so much more. We learned about the disappearing tropical frogs, saw invasive lionfish up close, and were surprised by the albino alligator. We beamed in delight watching a sea otter crack a crab claw against the glass and slurp up its delicious insides, and entered an outside room with dozens and dozens and dozens of parakeets.
Though I loved the tropical species, I was especially pleased that I could walk through exhibits dedicated to local ecosystems, such as the Mississippi River and Gulf of Mexico. Given that I work in an environmental capacity in this region, you wouldn't think I could learn much more, but you would be wrong! I had never even heard of a paddlefish, let alone realized that damming operations had hurt its population numbers. I knew tarpon were caught on the Emerald Coast fishing piers, but I had never caught a good glimpse of their silver scales or impressive sizes. Have you ever seen a massive grouper hiding out in a rock grotto? Now I have!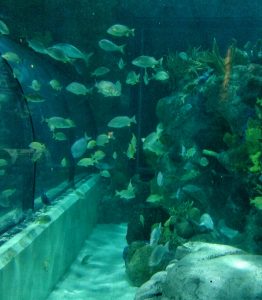 These are species that I can directly impact through positive environmental behaviors and speaking up for green policies. I'm sure I'm not the only one who rapidly Googled more information on invasive species in the Mississippi, possible dam removal sites, and rigs to reef projects in Louisiana.
Environmentalists rightly criticize some of the deplorable conditions of species in captivity in zoos or aquariums. However, if done right the educational benefits of allowing people to see the wildlife up close provides a valuable conservation service around the country and the world. I had an exceptionally great time at the Audubon Aquarium of the Americas, and would absolutely visit again!
Citation:
R. Ballantyne , J. Packer , K. Hughes & L. Dierking (2007) Conservation learning in wildlife tourism settings: lessons from research in zoos and aquariums, Environmental Education Research, 13:3, 367-383, DOI: 10.1080/13504620701430604