This summer I have been on the move. From New Orleans to Miami to the mountains of North Carolina to Maine, I drove and flew all over the place. My travels have been both for fun and for freelance assignments, and I have been so lucky to explore everything from research sites in the Everglades all the way up to ice storm plots in the White Mountains. Still, by the time I got to my home state of Maine for vacation, I was exhausted.
Around twelve hours after landing in Portland, ME, I drove up to Kennebago Lake, where I've been spending summers since I was four years old. When I first arrived, I had grand plans to bike, hike, and bird every minute of the 48 hours I had up there.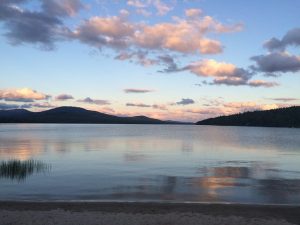 Then this funny thing happened. I sat on the dock, overlooking the lake and the mountains beyond. And I sat, and sat, and sat.
An expanding library of science extols the value of the natural world for reducing stress and improving overall health. A study in Australia found that 30 minutes a week in greenspace was enough to reduce depression and high blood pressure. In a Well Blog for the New York Times, Gretchen Reynolds writes: "A walk in the park may soothe the mind and, in the process, change the workings of our brains in ways that improve our mental health, according to an interesting new study of the physical effects on the brain of visiting nature." In another Well Blog, Reynolds quotes a scientist who explains, "short durations of viewing green pictures may help people to recover from stress." An article by the New York Department of Environmental Conservation lists health benefits of spending time in forests in particular as:
"Boosts immune system
Lowers blood pressure
Reduces stress
Improves mood
Increases ability to focus, even in children with ADHD
Accelerates recovery from surgery or illness
Increases energy level
Improves sleep."
As I sat on the dock, mentally taking in the natural world around me, I felt the stress of travel ease and a sense of relaxation take over. Though I was only there for two days, I was rejuvenated on the shores of Kennebago Lake, and now feel ready to take on the rest of my projects!