In my house, car and office, one will find a wide variety of checklists and site passports. On my couch sits a bright blue passport book listing National Wildlife Refuges, complete with refuge descriptions and a blank space for unique stamps to mark my visit. On my desk lies "The Real Florida Passport," with photos and paragraphs about Florida State Parks, historic sites and trails. Within my car one can find various bird checklists, including one for Florida and another one for my home state of Maine. I've ordered my National Park Passport and it's on the way.
I'm not the only one with a love of passports. My friend Meredith Moreno – who was my inspiration for purchasing the National Park Passport – wrote to me about how she got started with her National Park stamps: "When I was working in the field as an archaeologist, we would work a schedule that was ten days on and four days off. A few of us started to go to National Parks as a way to spend our four days off. One of the archaeologists had a well-worn NP stamp book and convinced us all to join him. This particular archaeologist has joined my husband and me on stamping trips all over the U.S. over the past six years."
Passports and checklists are well-established for natural parks and scenic sites across the United States. Larimer County in Colorado has a booklet of 16 of their natural open spaces; collectors can win prizes for visiting the parks. In an article on starting the New Year outdoors, a Missouri news outlet touts the Missouri State Park Passport (photos and information for each of the 88 parks), a special passport program for the six National Parks in Missouri, as well as the National Park passport. The latter has been in existence since 1986, and according to its webpage: "the Passport program has introduced millions of visitors to the national park system." Going in a slightly different, but related direction, the local Triangle Land Conservancy has a hiking challenge that involves visitors logging their hikes and entering into drawings for special prizes.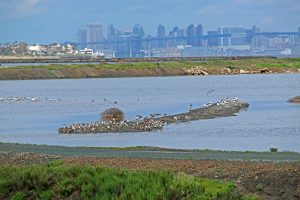 As I've accumulated these types of checklists and passports, I have to ask myself: why do I do it?
Though there are usually prizes involved for different levels of participation, that's not why. I like the idea of certificates, water bottles and raffle drawings, but they are not motivating factors for me. First, I find checklists in general immensely satisfying (Nerd Type-A alert!), so when the lists come in beautifully organized passports it's no surprise that I love them even more. Checking things off makes me feel accomplished and efficient while causing my brain send out a release of good chemicals:
"When we experience even small amounts of success, our brains release dopamine, which is connected to feelings of pleasure, learning and motivation. When we feel the effects of dopamine, we're eager to repeat the actions that resulted in success in the first place. Neuroscientists refer to this as "self-directed learning." This is why achieving small goals is such an effective way to stay motivated during long-term projects and processes." – Lauren Marchese, Trello
However, that can't be all. I also get an immense amount of satisfaction from visiting the places on my lists. I explore beautiful areas, learn new things about history and the environment, and get exercise to boot. The passports and checklists open my eyes to off-the-beaten path sites that I've never heard of, or showcase parks near each other so I know which ones I can visit on the same day. Without the Great Florida Birding Trail, I never would have found the gorgeous wetland boardwalk on the University of West Florida's main campus or Shoreline Park South, which includes a trail through oak hammock and another that leads right to the water. Without the National Wildlife Refuge blue passport I wouldn't have stopped at the San Diego National Wildlife Refuge, where I went on a fantastic bird walk with my mother during a swing up the coast. To me, those exploration experiences are priceless and require a systematic usage of the passports to see new places.
Meredith agrees. She says, "I go to National Parks, National Historic Sites, National Monuments, etc., as a way to experience the country and see some of the United State's less-recognized or off-the-grid areas. The NP stamps helps me keep track of our adventures and gives me a reason to travel to sites that I may not go to otherwise. Without the excuse of NP stamps, I might never have gone to Jimmy Carter's birthplace, Frederick Douglass's house, Rainbow Bridge Nation Monument in Utah, Teddy Roosevelt National Park in North Dakota or the Selinas Mission in New Mexico (all absolutely amazing sites!)."
Of course, in the end it probably doesn't matter why we use them; just getting outside, enjoying beautiful places, exercising and learning more about the world are outcomes that are positive regardless of why we picked out passports in the first place. If you've never tried them, I highly recommend it! Pick up one specifically for your state or region or try a nation-wide passport.