Studies are continually touting the importance of urban green spaces, citing their ability to reduce stress and provide other health benefits. I agree wholeheartedly that these open areas where people can explore nature are critical, which is why I was so excited to see and explore the Lady Bird Lake trail system in Austin, Texas.
The trail itself is a long loop encircling Lady Bird Lake, which was created through the damming of the Colorado River in 1960 and covers over 450 acres. Located within the heart of the city, it's easy for residents and visitors alike to get right from a busy street to the peaceful path on the edge of the water.
I was in Austin visiting Audrey, friend and fellow alum from the Duke Nicholas School. We both love exploring and looking for birds, so the trail was the perfect fit. We hit the lake near the Zilker Metropolitan Park, marveling at the dozens – if not hundreds – of joggers, dog walkers, and bicyclists. The water was equally busy, both with a half dozen waterfowl bird species as well as kayaks, crew crafts, and other boats. We even spotted a swan or two, which were clearly used to being fed because they swam right up to us. Though the weather dawned cloudy, the temperature slowly rose and the sun peeked out here and there, causing dappled shadows on the ground.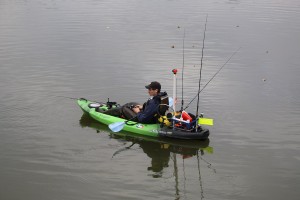 I thoroughly enjoyed myself on the trail. Audrey and I chatted, looked at the flora and fauna, even hopped off the path for brunch at Bangers before continuing on our way. Though we didn't complete the entire loop (we made it about four miles), I was already impressed with the variety of recreational activities the park presented to everyone, and how well the city kept these opportunities open through good maintenance and creative design. The trail system has 1.5 million visitors per year, and replicating the Lady Bird Lake green space should be a goal for many other cities!