It's hard to believe that my second semester of grad school started this week—it seems like just yesterday that I was meeting everyone at orientation week, freaking out (mildly) about the statistics and calculus diagnostic exams during orientation, and repeatedly learning the hard way that you need your ID when you go to the rooftop garden in Environmental Hall to avoid getting locked out.
To be honest, I have mixed emotions about the spring semester. I'm excited to start a new batch of classes (Environmental Politics and Federal Fisheries Management and Policy, I'm looking at you), finalize plans for my Master's Project, embark on a new batch of outdoor adventures, and so on.
But I also must admit that I am slightly terrified, mostly because of GIS. GIS almost ate me alive last semester.* While I am pumped for the marine spin in the GIS for Coastal and Marine Management course this spring, I'm not quite mentally prepared for that. Nor am I mentally prepared to bike to campus each day in January weather.
So, as I look forward to getting back into the swing of things, I thought I'd take a look at some every-day, day-in-the-life type highlights from the fall:
Rock climbing at Pilot Mountain, NC. Undoubtedly, this was a favorite experience of the semester. Duke NicNats (Nic School Naturalists) planned a trip to Pilot Mountain, about two hours northwest of Durham, for some climbing. I've been climbing consistently for a year but am still relatively new to the outdoor climbing world, particularly in NC, so this + an ultra fun and supportive bunch of Nic Schoolers made it fantastic.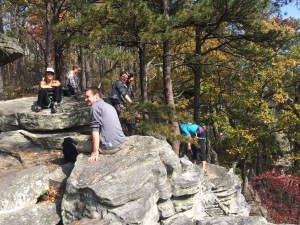 Visiting the Marine Lab for the first time. For those that don't know, the first-year CEMs are on the main campus, and the majority of the second year CEMs and marine faculty are at Duke's Marine Lab in Beaufort, NC. Early in the semester we got shipped out to the Marine Lab to meet the faculty and tour the campus—this was exceptionally exciting since most of CEMs came to this program for the top-notch facilities and faculty at Beaufort.

First year CEMs at the Marine Lab in early September. So bright eyed, happy to be at the coast and not yet sleep deprived!
A Congressional role play in Ocean Law on seismic testing. Yes, I know I sound like a complete nerd for saying this, but the pending decision allowing seismic testing along the East Coast and its ecological effects is currently of great interest. So, I was elated to find out that one of my assignments for Ocean Law was partaking in a three hour long role play, where we each represented someone from government, industry, etc. and testified to a mock Congressional Committee on whether the U.S. should or should not open the East Coast to seismic testing.
First Duke basketball game. I was reared as a Maryland and Carolina fan (I know, the horror, I'm sorry), so going to Cameron Indoor Stadium and realizing I was slowly converting to a Blue Devil was a bit scary. I was hooked by the end of it, and not going to lie that I sort of freaked out when I saw Coach K for the first time.
Eating fresh, local seafood every week. I've said it before and I'll say it again: Nothing beats the Nicholas student-founded Walking Fish Cooperative that delivers a fresh share of seafood each week to the Duke Gardens from the North Carolina coast. Such an asset to have that both on campus and in Durham! 
* I'd also like to add handing in my final GIS project as my sixth favorite memory. While I do enjoy GIS, believe it or not, it's challenging for me and my editorial brain that just spent the past few years writing all day for my job.
Now, this just represents a very, very small window into some highlights of the past semester, and I want to point out that some of my classmates partook in incredibly innovate and amazing experiences, like attending COP 21 in Paris, establishing a garden on the Environmental Hall roof and many others. Stayed tuned for what's in store this spring semester!