We all know the terms, "Go green!" and "Reduce, Reuse and Recycle." While the benefits behind these actions collectively help the planet, there are also a number of things you can do to go "blue" in your everyday life.
This year marked a big year for the oceans. The UN Sustainability Goals mentioned ocean conservation for the first time, governments created over 2 million square kilometers of marine reserves, a presidential task force released final recommendations on seafood fraud and illegal fishing, and the list goes on.
As we enter 2016, here are a few things you can do to keep up the momentum in your daily routine:
Eat local and sustainable seafood. Oftentimes, the fish you buy may have consequences for the oceans. It can come from an overfished fishery, its harvest may result in a heavy amount of bycatch (meaning other species incidentally caught in its capture), or may be mislabeled as a different fish than what it is actually is. The best way to ensure that you're purchasing seafood that's healthy for you and the oceans is to eat local seafood whenever possible, ask questions about where it's from and how it was caught, and refer to apps or pocket guides like the Monterey Bay Aquarium's Seafood Watch guide for guidance on the best seafood options.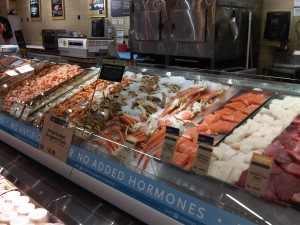 Reduce plastic use. We've all heard the sad stories: a sea turtle with a straw in its nose, a dead whale washing up with a belly full of trash, and a heron attempting to eat a plastic shark. Help reduce plastic waste by choosing reusable bags and kitchen utensils, and reduce plastic and trash use wherever possible.
Avoid products containing microbeads. You may have heard the good news just last week that President Obama signed a ban on microbeads—the tiny little plastic balls in your face wash and toothpaste (woo! victory!). But, bans on their manufacturing and sale don't take place until 2017 and 2018, respectively, meaning they will still appear on store shelves. A recent study shows there are a harrowing 15 to 51 trillion pieces of microbeads traveling in the oceans. So, while we await their complete ban, choose beauty products that don't contain these little plastic pieces.
Cut back on energy consumption. Fossil fuel emissions help drive ocean acidification, which carry a wide range of consequences for the oceans like coral reef bleaching and disrupting food chains. Ride your bike, rely on public transportation, unplug unused electronics—the list goes on—to reduce reliance on fossil fuels.
Vote smart! This year will be a big year for shaping ocean policy. Make informed decisions about leaders on local, state and federal levels, and don't forget to exercise your right to vote.