The seemingly endless stretches of lava in Hawaii Volcanoes National Park would lend one to think the lower reaches of this National Park lifeless, home to nothing more than some insects and primary succession growth.
But deep within the stretches of this park, located on the Big Island in Hawaii, lies an important habitat area for an unsuspecting species: the endangered hawksbill sea turtle (also called the honu'ea in Hawaii).
From about May to December each year, these turtles nest on tiny pocket beaches scattered throughout the Park. These small beaches, and a few others along the Big Island, host the greatest hawksbill turtle nesting density within the state of Hawaii. Relatively speaking, however, the number of nests is less than one would expect—somewhere in the high-teens so far this season—which is especially low for a species struggling to recover.
As an amazing perk of my internship with DLNR, I had the life-changing opportunity to join Park staff and volunteers for a week tracking nesting hawksbills, working to identify and tag all nesting females to monitor and help conserve this population. Considering I have never backpacked on lava or encountered hawksbill sea turtles before, it was quite the experience.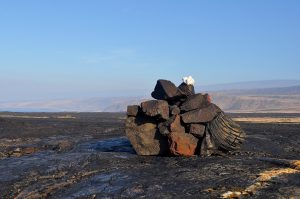 The week started out backpacking across 6 miles of lava to reach our main field site, Apua Point. I have never seen any landscape quite like endless lava fields before—such a striking site with black lava hitting a radiant blue Pacific, and seeing nothing else for miles.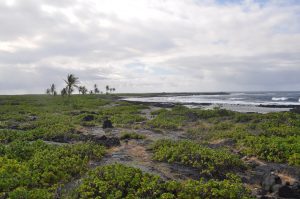 Our field site at Apua led to some luxurious camping, as it came equipped with a toilet, cots for sweeping, water and a few other supplies that were already flown in at the beginning of the field season.
Our work at Apua was relatively easy: Start patrolling the small beach by foot at about 5:00 p.m. each day, and continue checking the beach until 2:00 a.m. Then, we would sleep for a few hours, and wake to conduct one more dawn check for any missed nests at 6:00 a.m. It was exhausting (I think I slept for maybe 16 hours total that week), but the gorgeous scenery and thrill of seeing female turtles crawl ashore each night—the same thrill that lured me into the marine world as a kid—keep one awake.
Some days, we would conduct our dawn check, and then immediately hike about 6 miles one way to other pocket beaches within the park—Halape and Keauhou—to check for any nests laid the night prior. Halape won the award for Most Beautiful Beach I Have Seen in My Life—two small beaches (one of which you could opt to swim to) dotted the coconut tree-lined beach.
During the week I was there, I encountered two turtles coming ashore to nest. One was a newly tagged and suspected young nesting female, who came ashore on two different nights. She ended up false crawling—returning to sea without nesting—both nights I was there (you can read more about false crawling on fellow CEM, Emily Hall's, recent blog). Another turtle, dubbed the "mystery turtle" for her freakishly-quick abilities to dash back into the ocean before we had a chance to check her for tags, came ashore one night to nest, but also ended up false crawling.
Had we gotten a close look at the "mystery turtle," we would have applied tags and taken basic measurements. That way, when she comes ashore to nest in the future, staff and volunteers can easily identify her and use that data to learn more about the hawksbill population.
Given that hawksbills are so endangered, this information is critical. Hawksbill turtles experienced precipitous declines over the past century from harvesting their shells for jewelry and tool making, and meat for consumption, according to NOAA. While this harvest has largely ceased, hawksbill remain the rarest turtle in the Pacific Ocean. In the U.S., nesting is mostly limited to Hawaii and Florida. That's why—despite their very low nest numbers on the Big Island—the work of the Hawaii Hawksbill Recovery Project and other work by groups like the Hawaii Wildlife Fund remain so critical.