Have you ever wondered what would happen if the Jersey Shore cast filmed a season in Mexico? I think we may have found the perfect destination for season 5. But let's back up first.
After 7 long months of anticipation and 12 equally long hours of travel, I landed in Hermosillo on Saturday afternoon and met up with my 8 other classmates.  We are here in Mexico to study Social Ecological Systems in the Gulf of California (for a more in-depth content:encoded see "trip/course content:encoded" on the tool bar).  We took a quick trip in to downtown Hermosillo where we gorged ourselvse on an incredible meal of guacamole, tacos, quesadillas, fajitas, horchada, agua de jamaica, and other things that were inhaled too quickly to remember the names of.  The meal was drastically improved by the fact that the restaurant played Alanis Morisette's entire "Jagged Little Pill" album for us while we ate. So hospitable!
After dinner we took a not-so-quick trip to a mega Mexican grocery store to pick up some food for our two week stay.  Think Wal-Mart. On steroids. In Mexico.  This bizarre introduction to Mexico was even more bizarre in our sleep-deprived, jet-lagged, delirious states.  We spent over an hour in there and walked out with 5 grocery carts carrying $7950 PESOS OF FOOD!  That's roughly $750.  That's a lot of food. And a whole lot of "turkey ham"… whatever that is.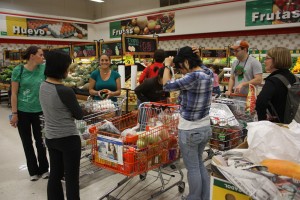 Anyway… back to the Jersey Shore.  When Xavier told us about the village where we would be staying, I had imagined a quiet, quaint little town on a dusty road. As we were driving in to Kino (at 11:30 pm, 2:30 am our time, going on 22 hours since we woke up), what we encountered was quite different.  On all sides of our van for about 8 miles leading up to the research station we were surrounded by the drunkest, rowdiest teenagers and twenty-somethings having the most outrageous house parties.  Apparently Kino Vieja is akin to Myrtle Beach or the Hamptons where people have vacation houses and only come for holidays and spring break.  Well, today happens to be a big holiday.  Happy Birthday Benito Juarez!
We're staying at the Prescott College Kino Bay Center, which is a field station that draws an eclectic mix of fellows and students with interests ranging from biology to ecology to anthropology.
We've been here for about 36 hours now and there is no sign that the party dying down any time soon.  It has certainly been a surprise but I've found it quite interesting to be immersed in this unexpected side of Mexican culture.  We were lulled to sleep on our first night here to the sound of Enrique Iglesias, Black Eyed Peas, and an eclectic mix of other American favorites.  Luckily for us, we're sleeping ouside so we never miss a beat!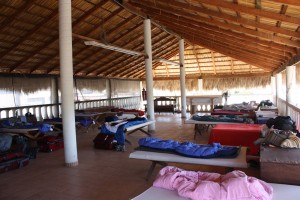 We spent yesterday around the station–reading and having class in the breezy outdoor classroom.  So far we have focused on learning the system of fisheries management in Mexico.  One of the things that makes this system so interesting (and complicated) is that there are major incongruencies between the "rules in form" (the laws) and the "rules in use" (the rules that people actually follow).  The rules have been designed to limit the number of fishermen, with the intention of reducing effort in the fishery, but this has created a perverse incentive for a huge number of fishermen to fish illegally.  The formal rule system has essentially driven the creation of a completely new, and illegal system of rules.  Over the course of the trip we will get some first-hand experience with the different actors in this system so that we can better understand the complex dynamics of fisheries here in Mexico.
Before class, Elena and Caitlin and I spent our lunch break at the beach, which is across the street from the research station.  It is pretty remarkable to look out across the horizon and see the islands in the distance.
In case you are unclear about where we are, go here and you can click through the pictures to take a little photographic tour of our location:
http://maps.google.com/maps?ll=29.113775,-112.197876&spn=1.027005,1.766052&t=h&z=9&lci=com.panoramio.all
We have also been eating some great food!  Last night Connie and Nari cooked our first home-cooked feast, and it was ahhh-mazing. Yum.
Today we will travel in to "Kino Viejo" which is the older, fishing village side of Kino (as opposed to the Jersey Shore side of Kino).  I am excited to get out and around to see, first-hand, some of the dynamics of the fishery that we have been learning about.