Any account of our trip would be grossly incomplete without a content:encoded of the fantastic food we shared. Whether prepared by one of our superb chefs, savored at a local restaurant, or devoured by the side of the road, our meals provided far more than mere calories. Breakfast and lunch were generally make-your-own affairs (usually featuring Nutella and always requiring strong coffee), but dinners were lovingly planned and executed. For the record (and as a challenge to future field trip participants!) below is a brief summary of our dining experiences:
Day 1 – Huge deep dish pizzas at Zachary's in Tuscon stuff us to the gills and supply ample leftovers for the long drive to Mexico.
Day 2 – First stop in Mexico is a massive supermarket where we acquire food for 9 people to last 2 weeks. We break into teams (basics, lunch fixings, produce, and dinner ingredients) and then search in vain for simple ingredients that we take for granted (like swiss cheese!). We adapt our recipes on the fly to work with available Mexican ingredients. Over an hour later, we wheel 6 packed carts through the checkout, to the astonishment of the cashiers. Dinner that night is at a local Kino seafood restaurant, where we gorge ourselves on manta ray, crab, and pen shell tostadas and ceviche.
Day 3 – After a long, hot day exploring Kino fish processors, we stop at a roadside stand for cool, refreshing hibiscus juice ("agua de jamaica") and rice milk ("orcheta"). Aaaaah. That night we dine on steak and mushrooms in wine sauce and scalloped potatoes … and learn the limitations of a field station kitchen.
Day 4 – Our second home-cooked meal features risotto with chicken and vegetables, accompanied by a popular beverage that has the deep-red hue of agua de Jamaica but tastes more potent.
Day 5 – Having touched on the cuisines of Russia and Italy, today we make a nod to India with a perfectly-seasoned and scrumptious vegetable curry.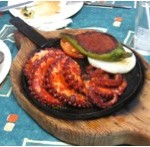 Day 6 – A very long day in Guaymas (keeping strictly to Mexican time for all appointments) means that "lunch" finally merges into dinner. We celebrate with a restaurant feast of polpo (the best octopus I've ever eaten), calle (like really large and meaty scallops), and other fresh, local seafood delights.
Day 7 – A hectic day of continually revised plans and unfortunate mishaps lands us on Tiburon Island as the sun is setting. With primitive equipment and battling a fierce wind, our cooks for the day amaze us with chicken quesadillas accompanied by freshly made guacamole and pico de gallo.
Day 8 – Food always tastes great when you're camping—but our Seri guests make this evening truly memorable: appetizers consist of pen shells (the local scallops) pulled from the sand bar, cleaned, and doused with fresh lime juice in front of our eyes and mussels harvested from the seabed, arrayed on the sand, and cooked under a pile of burning brush. Main course is chicken in vodka-tomato sauce and potatoes cooked in the embers of the fire. To top it off, we celebrate Michelle's birthday with cupcakes, wine, and songs.
Day 9 – Another long day returning to Kino from Tiburon. We "settle" for a simple meal of chicken breasts, black beans, and salad at the field station.
Day 10 – Driving back from the shrimp farm, we stop at a genuine Tortilleria where piles of fresh, steaming tortillas (corn and flour) come straight from the stove. It seems like such simple food but, with the merest sprinkle of salt, these Mexican staples seem to us as delicious and satisfying as any four-star meal. Feeling a bit lazy, and running low on several ingredients, we dine in Kino, once again enjoying fresh polpo, jaiba (crab), and marlin tacos and tostadas.
Day 11 – After a relatively quiet day at the station, we enjoy a savory lentil stew accompanied by assorted veggies that must be consumed by tomorrow!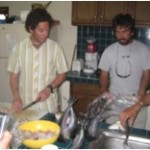 Day 12 – For our last day in Kino, Xavier and Cosme treat us to ceviche tostadas and fish fajitas made from fish just out of the sea. We savor the taste of the ocean mingled with the bite of lime and chili peppers. The perfect end to a perfect adventure.