Dogs and Popsicles: The Keys to My Heart (or, Why I had a good day)
Today marked our second day of class. We started the day with a discussion led my Nari and me on aquaculture regulation and certification. This was followed up by a talk by Maja Schluter, our visiting faculty member, on work she has done/is doing on adaptability and evolution of social-ecological systems and their controlling bodies. We also got to take our first trip into the field, and we were all very excited to see first-hand the concepts we have been learning. To see the fisheries, we walked along the beach in Kino Viejo (Old Kino), toured a jellyfish processing plant, and briefly visited a shrimp packaging plant.
When we first arrived at the main pier in Kino Viejo, we met with our guide for the day, Mario Rojo, and were bombarded with the sorts of sights, sounds, smells, and tastes foreign travelers relish when visiting a new place. Because it is a holiday weekend here in Mexico (the birthday of Benito Juarez) the town center was flooded with people (see Jersey Shore section of the previous blog post). According to Xavier, the town is very rarely this full people and most of the crowd are tourists from nearby Hermosillo. Luckily for us, the influx of people meant that every food stand and craft seller was open for business. Particularly of interest to us were the numerous seafood vendors selling cockles, clams, and pen shells that smelled wonderful. The shellfish were all extremely local and fresh. They were eaten raw, and most people were adding chili sauce and fresh lime juice.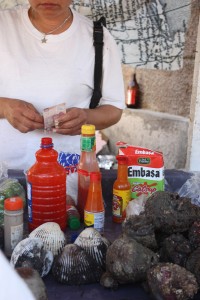 Cockles, sauces, and a vendor
From the pier itself, we had a view of the beach. The amount of trash on the beach was shocking, but even more so was the presence of several very small children playing in said trash. Also, we saw families fishing off the pier with homemade tackle, such as line wound around plastic bottles with bolts for weights.
Everywhere we went in Kino Viejo, there were stray dogs watching our every move. Most of the time, they were quite cute and at least mildly friendly, but one dog starting growling at me when I offered my hand for a sniff. I guess he was guarding a panga or something.
a Kino dog
After a few minutes wandering the pier area, we reconvened and started down the beach towards the jellyfish plant. The beach was riddled with pangas, the small fishing boats used by local fishers. We saw a fisherman sitting in his beached panga cleaning his catch of baby sharks and rays. One of the pangas had a "hookah" on board. "Hookah" is the slang term for the jerry-rigged diving tool comprised of an air compressor and hose. It is amazing that divers trust these frighteningly simple machines with their lives in depths over twenty meters!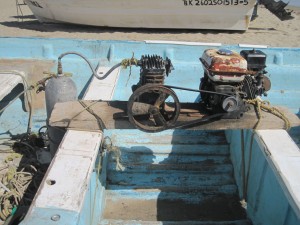 Air compressor portion of a "hookah"
Further down the beach, we encountered a group of fisherman attempting to slide their pangas on the dry sand. Suddenly, without realizing exactly what was going on, several of us jumped into the action to move one of the pangas further onto dry land and another into the water. This was made difficult by the fact that all of the orders were being shouted in rapid Spanish and few of us understood what to do. It soon became clear, however, and the boats got where they needed to go. The thankful fishermen then informed us that we could come at six A.M. tomorrow and they would give us some fresh fish (a truly tempting offer since we are generally woken up that early by the rising sun illuminating our palapa).
Class helping local fishers move their palapa on the beach
We then toured the soon-to-open jellyfish processing plant that dries jellyfish for shipment to east Asia, our first taste of what happens to the catch once it leaves the sea. After a short drive, we got to visit a plant where they sort and freeze shrimp from farms in the area. After the shrimp plant, we drove 10 seconds (literally) down the road to an excellent paleta (Mexican fruit popsicles) stand where we enjoyed flavors varying from mango with chile to coconut to strawberry vanilla (pictured).
Our day ended with an excellent dinner of chicken coconut curry made by Elena and Maja. Tomorrow, we look forward to more discussions and a field trip to a shrimp aquaculture farm. It is amazing getting to see what we discuss so soon after we discuss it!