You run over a carpet of flattened green paper cups deposited on the pavement by thousands of runners ahead of you. Lined-up volunteers in official neon jackets offer the Poland Spring water and lemon-lime Gatorade with outstretched arms. You accept a cup, pinch the top to take a few swigs, and drop the rest. Further ahead, you see more race billboards, mile markers, and official posters. They tower above the thick crowds of persistently cheering spectators along the road. 
When you cross the painted blue finish line, a volunteer urges you forward while intense soreness and fresh blisters hinder your steps. As you slowly progress through the runner assembly line, other volunteers offer you a plastic bottle of Gatorade, wrap a shiny space blanket across your shoulders, adorn your neck with a finisher's medal, and hand you a Power Bar and a plastic bag filled with snacks. You retrieve your personal plastic drawstring bag from one of the dozens of school buses that transported it from over 26 miles away. 
Back at your friend's house where you're staying for race weekend, your swag from the race expo sits in a pile on her countertop: stickers, magnets, lanyards, posters, magazines, a pack of Hawaiian sweet rolls that you'd never buy at the grocery store, and the anticipated long-sleeve tech tee that will be a conversation starter. You prepare for the long road trip back by packing up your new stuff, emblazoned with a new accomplishment. 
Though I'm not running Boston this Monday, I'm just as excited (if not more) to be able to watch the elite runners online and track my friends as they charge from Hopkinton to Boylston Street. Marathon Monday and the runner mecca that is the Boston Marathon race expo are special events glowing with tradition, symbolizing human perseverance, discipline, and willpower. But they also represent consumerism. Each time I stepped into the expo or the Athlete's Village or the post-race product giveaway line, I cringed inside. The sheer amount of stuff and the towering piles of unwarranted waste contrasted so sharply with the simplicity that most runners tout as one of their favorite things about running.
The Boston Marathon must have a sustainability commitment or plan though, right? The Boston Athletic Association's (BAA) "Going Green" webpage describes how race organizers try to make the event as carbon-neutral and waste-free as possible. However, not all these actions seem representative of reality, and they have ample room for further improvements. The race is also not certified through the Council for Responsible Sport. This certification process is entirely optional and would cost $1,300, but it would help the BAA progress forward with their commitment. One of the major challenges is making improvements that can be widely celebrated, instead of seen as sacrifices.
First, the ubiquitous green cups– over a million of them. These are collected for recycling, but it is hard to imagine that the soaked, dirty, trampled cups raked off the road would pass a recycling facility's inspection. Hydration sources are of chief importance during a marathon, but what if they didn't need a container? Perhaps in a few years the "water blob," a small, spherical blob of liquid in edible packaging, will be available and can be handed to runners. This would be more convenient to consume while trying to maintain a steady pace. For those who prefer to dump a cup of water over their heads, maybe volunteers could hose off anyone who chooses to run in a certain squirt-zone. In the meantime, the race should switch to tap water instead of Poland Spring, which is carted in plastic 5 gallon jugs– although this might be contentious given Poland Spring's race sponsorship.
Other wastes related to food and drink come from the pre-race dinner on Sunday evening. The BAA states that all this waste is recyclable or compostable. Commendable and perhaps true, but it still does not deal with the needless distribution of tens of thousands of 16.9 oz plastic water bottles, when most marathoners already have a reusable water bottle glued to their hand the entire week before an important race. The BAA also does not mention the superfluous "dessert" bags that runners are handed after the dinner, which are filled with candy and chocolate rabbits. Most runners don't eat this the night before a marathon anyway, so the candy and plastic bags could easily be nixed and those efforts could be funneled into other areas.
On Monday morning, school buses transport runners from Boston to the Athlete's Village in Hopkinton, cutting down on personal vehicle use. The BAA purchases carbon offsets for these buses, and travelers could also purchase offsets for flights or road trips to Boston. Cups of water, Gatorade, and coffee, along with bananas, bagels, and Power bars, are provided at the Athlete's Village. Though the BAA claims that there are compost receptacles here, I have not personally seen one.
What else is at the Athlete's Village? Porta potties. Lots of them. Boston Marathon director Dave McGillivray estimates you need 1 porta potty for every 50-75 runners. 36,000 runners will be racing this year, leading to about 720 porta potties. Based on the numerous locations they're stationed at, though, I estimate more. The BAA calls these "environmentally-friendly portable toilets." They save water, since porta potties do not use water to flush and transport waste to a sewer system. After use, the waste from porta potties is sucked out, disposed of at a wastewater treatment plant, and the mobile toilets are reused at other venues. I think the BAA gets a check-plus for the porta-potty situation, assuming they are actually renting from companies that use environmentally-friendly liquids in the holding tanks. Something that every runner can agree on, though, is the need for more toilet paper and even more porta potties (you will always wait in a decent-sized line). Experienced runners pack their own toilet paper because the provided supplies can run out within an hour. Instead of chocolate and candy sponsors, the BAA could find a recycled toilet paper sponsor- an action that would be much more appreciated by runners.
After the race, runners take pride in their Boston-labelled swag. "Free" race memorabilia is something that most runners appreciate, and as long as the products are things that they would have bought anyway (e.g., a running shirt) then they serve a useful purpose. Goods sold at the race expo can be excessive, though. The very goal of a race expo is for companies to sell things. But perhaps the BAA could increase the proportion of companies that offer services instead of products: a stretching clinic hosted by a Boston yoga studio (most of the runners are from MA anyway), or a finance planning workshop hosted by a national bank to factor all those expensive race fees into your budget.
Some runners with enough race swag for a few lifetimes could even opt out of the "free" merchandise if they wanted. For example, though the finisher's medal is a symbolic object coveted by many, some participants are fine without one. Instead, when runners register online the BAA could provide the option to receive a medal on race day or to donate the cost of a medal to a charity instead. A race medal can cost between $3.50 and $6 depending on how many are manufactured. If 5% of runners opt out of a medal and the medal costs roughly $5, then this would raise $9,000. Race bibs are already printed with a personalized number, wave color, and corral number. They could easily be printed with a small symbol, like a heart on an organ donor's license, that tells volunteers whether or not to give the runner a medal at the finish line. An opt-out option could be available for race shirts as well (as is already practiced by other races), which are handed out at the expo. If each shirt costs $20 (a low estimate because of the large quantity) and 3% of runners opt out, that's $21,600 diverted for donations. To remain true to the sponsorship, this donation could be made by Adidas in their name.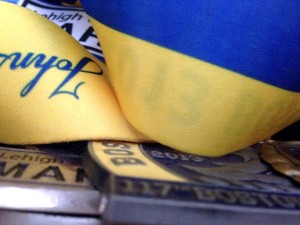 Months after the race is over, finishers receive a certificate and thick magazine of race results in the mail. Both of these could be sent digitally to each participant- larger races such as the Chicago Marathon are already doing this. When registering online, runners could opt-in for a digital certificate and results magazine instead of hard copies.
The Boston Marathon is an efficient, well-organized, phenomenal event that manages to handle the thousands of racers from the day they register in September to the day they pick up their race bib to the day they head home with new stories to tell. The BAA's commitment to redesigning the way resources are used is strong, but their commitment to ensuring that racers and spectators have a spectacular experience is even stronger. Therefore, all aspects of future sustainability plans must also improve the experience. Changes may be gradual, but they will be ones that are celebrated.