Although the 2014 climate negotiations in Lima, Peru at COP20 came and went with a fury, the process never truly stops. This is especially the case as the United Nations Framework Convention on Climate Change gears up for the all-important COP21 in Paris 2015. There, a final agreement to replace the Kyoto Protocol must be reached or, according to many pundits, the failure to do so will be the final death knell of the climate negotiations.
So with that in mind, I reflect on my experience in Lima last month. I was there with Duke colleagues through the student-led UN Practicum course taught jointly with the Nicholas School and the Sanford School for Public Policy. Throughout the semester we learned the ins-and-outs of the negotiation process and the positions of participating nation states. Our reward was attending COP20 as official observers assisting various clients.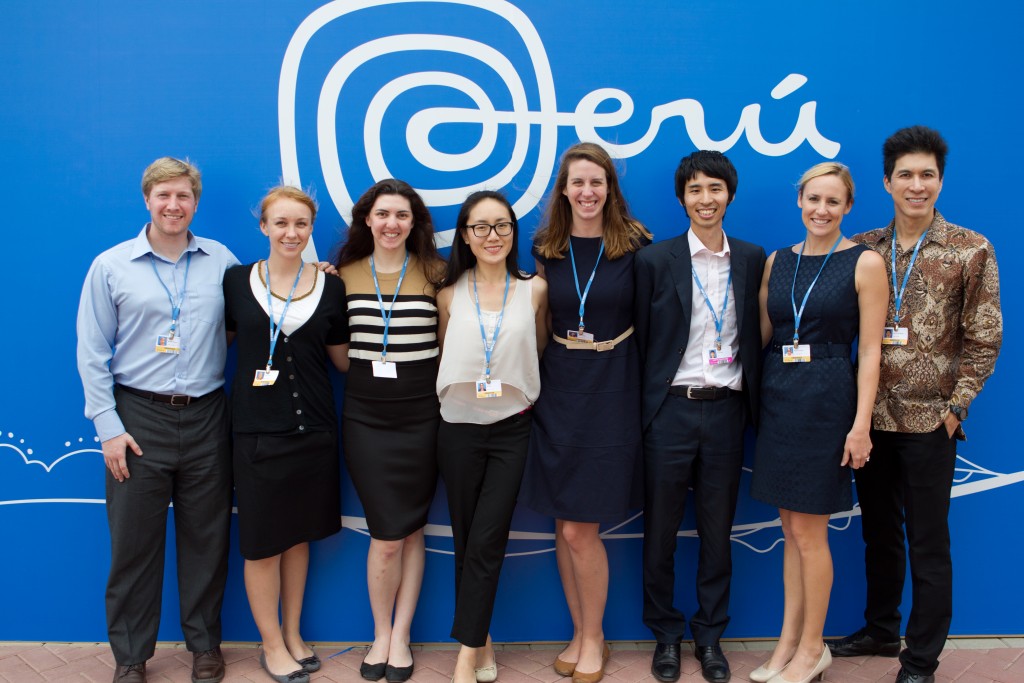 Each day there was an overwhelming number of events one could choose to attend—everything from 'adaptation and agroecology as climate change strategies for women,' to the 'economic repercussions of climate change on vital sectors of the Lebanese economy.' Luckily my client, Mr. Ali Raza, head of IUCN's Climate Adaptation Program, made the decision of where to go each day a simple one, requesting I focus on events covering topics related to adaptation, and even better if they covered ecosystem-based adaptation (EbA) strategies specifically.
The very first event I attended happened to be the most compelling of the conference and highlighted a key issue that was a stumbling block in many aspects of the negotiation: financing. The panelists were all distinct personalities with clear opinions about the topic of lessons learned from the Global Environment Facility (GEF) and its support of adaptation projects. The panelists discussed the implications of adaptation to date, as well as what they perceived to be the future direction of adaptation and funding for related projects through the GEF.
All of the panelists had interesting contributions and represented both nations as well as organizations–such as Gambia, led by the Least Developing Countries (LDC) Chair, H.E. Pa Ousman Jarju and the Mary Robinson Foundation, founded by Mrs. Robinson, former president of Ireland. Here, I'll focus on the discussion points I was most drawn to, shared by the Foreign Minister of the small island state of Tuvalu.
H.E. Taukelina Finikaso first introduced his country, explaining it's made up of nine inhabited islands, of which the highest point is four meters above sea level, making the citizens of Tuvalu very vulnerable to sea level rise. As minister, he helped direct an initial adaptation assessment to address issues like coastal erosion, saltwater intrusion, coral reef bleaching, and potable water. He emphasized that protecting their coastal areas is a difficult task due to the dynamism of atoll systems and their shifting nature.
Finikaso also explained that a point of pride for Tuvalu is its plan to be fully (or at least mostly) powered by green energy by 2020, including solar power and biogas, and is working with institutions to meet this target. He emphasized, that Tuvalu is a strong supporter of the fund, but definitely thinks reforms are needed, especially in regards to changing modalities for direct access to GEF, rather than having to go through an implementing agency that often impinges additional requirements. He closed by saying that if small islands can't access the funds, then the GEF is failing to help those who need it most.
In addition to attending side events and the actual ADP text negotiations, I had the pleasure of joining Mr. Raza on several meetings with potential partners on future projects, such as Bird Life International, the Global Island Partnership and the Mountain Institute. It was during these meetings I learned the most valuable lessons about strategic project planning and relationship building between institutions. Mr. Raza was a wonderful mentor, and towards the end of the week I learned over a pisco sour, that he was also a budding novelist. Although the negotiations themselves were tedious and at times disheartening to watch, I left the COP encouraged by dedicated people like Mr. Raza and the work they're doing daily to address our changing climate and help the people most affected.