So, we are one week into our Marine Conservation Biology class trip, and we have one week to go. For those that have been following our blog, you know what incredible experiences we have been fortunate enough to be a part of. For those that haven't, you've been missing out; it's a chance to live vicariously though us as we explore pressing conservation issues in Hawaii and enjoy paradise at the same time. While it's exciting and encouraging to learn about all of the wonderful efforts under way here, this trip has also opened our eyes to the complexities and challenges inherent in marine conservation. It is a tough road ahead for many of us as environmental managers.
In our first week of the trip, on the island of O'ahu, we focused on issues related to the intense pressure of development on the most populous Hawaiian island. Our hike up Diamond Head allowed us to bear witness to the throngs of tourists that trek up and down the 200,000-year-old inactive volcano every day, and we could see the expanse of resorts and hotels built directly on the beachfront that is Waikiki Beach. We observed an albatross necropsy to find shards of plastic in the stomach of a fledgling chick, we assisted NMFS in their quarterly green sea turtle health assessments in one of the most popular tourist beaches on the island, and we learned about an effort to remove a non-native invasive algae that threatens the productivity of coral reefs. We have banded albatross in the Ka'ena Point Natural Area Preserve, where a predator exclusion fence has protected the nesting albatross as well as helped to restore native vegetation. We participated in a Dolphin SMART tour, which is designed to minimize the harassment to Hawaiian spinner dolphins, and we met with Hawaiian longline fishermen to hear about their perspective on fishing practices and regulations. We have met a slew of influential conservationists,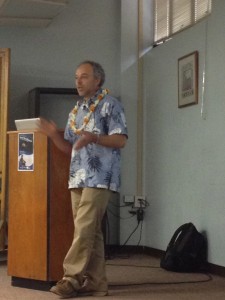 And we have visited some incredibly beautiful beaches.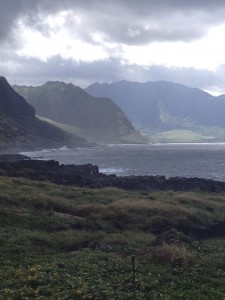 All in all, we have jam-packed this trip with unique experiences and have learned an incredible amount in just one week.
But we are only halfway through our trip, and we have an altogether different set of encounters ahead of us. We arrived on the island of Kaua'i yesterday, and we are resting up on our day off by watching a little bit of the NFL AFC championship game this morning (we have a house divided with both Pats and Broncos fans, but I am remaining neutral) and then heading out to Waimea Canyon State Park in the afternoon to hike around with hopes of spotting the nene, a goose endemic to the Hawaiian islands. A quick aside – we were slightly disconcerted when we arrived to the Chateau Relaxo to find the Kaua'i Removal Technicians finishing up, but we have yet to find any evidence of foul play.
From what we have seen of Kaua'i so far, this island is very different from O'ahu; Kaua'i is much less populated and much rainier – the summit of Mount Wai'ale'ale has an average rainfall of over 500 inches per year! We will spend the majority of our week assisting Kenady and Charles Littnan tag endangered Hawaiian monk seals, numbering them by bleaching their fur and attaching critter cams to their heads. We are very fortunate to have the chance to participate in this once-in-a-lifetime opportunity, as we are with all the activities on this amazing trip. Stay tuned for more exciting adventures and remarkable experiences on the island of Kaua'i!