After getting a chance to relax and recharge during our day off yesterday, our second full day in Kauai was also our last chance to sleep in well past sunrise.  The events we have planned for the rest of the week will certainly start much earlier.  After eating breakfast and preparing lunches for the afternoon, we climbed in the vans for a long drive north to the Nā Pali Coast.  Upon our arrival, we immediately noticed that parking spaces were few and far between.  Clearly this was a popular destination, not only for beach-goers, but also for those like us hoping to hike along the Kalalau Trail.  Our journey: a two-mile trek to a secluded beach.
Based on the exhausted condition of the people we saw returning to the trailhead, it was clear that this was going to be a strenuous hike.  The trail, which was dominated by a constantly changing and sometimes very steep slope, cut through the side of the coastal cliffs and frequently had us peering over the edge of a dramatic drop-off into the crashing waves below.  However, the biggest challenge of this hike was the ever-present mud created by the wet environment of this region.  The stepping stones and logs used to stabilize the path were slick as well, so every step had to be taken with caution.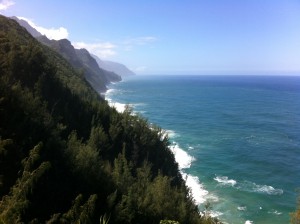 Though primarily shaded by the tropical forest canopy, the trail would occasionally open up to offer breathtaking views of the coastline.  There was certainly no shortage of panoramic photo opportunities.  At the end of the two-mile hike stood one final obstacle, a fast-moving stream littered with slippery stepping stones.  For many, this was an opportunity to demonstrate their ability to hop across the rocks without getting wet, while for others it was a chance to cool down and wash off some of the mud from their shoes.  After crossing the stream, we had finally arrived at our destination, Hanakāpīʻai Beach.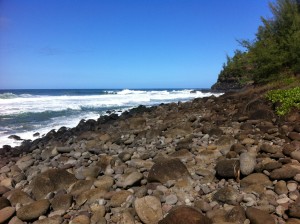 Numerous signs warned us that swimming was prohibited due to the dangerous waves and currents, but that did not keep us from enjoying the spectacular view as we took some time to rest and eat lunch.  Unfortunately, we all knew the muddy trail we had just endured was the only route back to the vans, so after crossing the stream once more, we began the second half of our hike.  Amazingly, despite the hazardous conditions, not a single person fell during our journey (though there certainly many close calls).  After taking some time to get as much mud off as possible upon our return to the trailhead, we hopped in the vans and headed back to Chateau Relaxo.
On our way back, the day concluded with dinner at a local favorite in Kapaa Town called Bubba Burgers.  Tomorrow promises to be equally exciting, with a journey to Kīlauea Point and the opportunity to see more Laysan albatross currently planned.  Stay tuned for more!