No one got pinched in our class today on St.Patrick's Day, thanks to the fact we spent the day working with green sea turtles! For our second day of class, we observed and assisted with green sea turtle health assessments in Hanauma Bay. We were very fortunate to have access to the Bay on a day it is normally closed, allowing us to enjoy the beautiful blue waters without the annual 800,000 visitors blocking the view.
Our journey began at 7:15 this morning as we made our way to Hanauma Bay. There we met the team from the National Oceanic and Atmospheric Administration (NOAA). After briefing us on the plan for the day, the NOAA team split into three groups to start the search for turtles. Meghan and Dana were the first of our class to join the search. They must have been good luck because their group was the first to find a turtle. After the turtle was found, it was put in the inner tube device pictured below and carried on shore.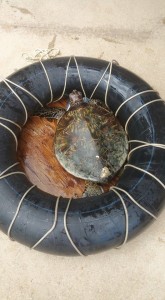 Next one of the NOAA veterinarians placed the turtle on a table for the health assessment. This assessment consisted of weight measurements, carapace (or shell) measurements, tissue samples, and checking for previous tags. If tags were not found, they were added both internally (PIT tags, similar to GPS units for pets) and externally on the flippers.
Then the turtle was released back in the water, where it couldn't get back home fast enough!
Almost everyone in the class took a turn snorkeling in the Bay to search for turtles. All in all, six turtles were caught, checked over by the vets, and released.
One of the many themes of this course is the intersection of the environment and society, which is especially prevalent in Hawaii. Like I said before, we were lucky to see Hanauma Bay at a time when we were the only people present. However that is not normally the case. In order to see the dramatic change that occurs, we will be returning to the Bay next week when it is open to the public, so stay tuned for more updates. We certainly took our time today to enjoy the once in a lifetime view!