Today's class was full of marine conservation shoptalk. We covered a variety of different marine conservations issues with the specialists we met on Day 3 of our Hawaiian adventure. All of my classmates had insightful perspectives and questions which made for great discussions throughout the day.
We began our day by meeting with Eric Gilman at the Mocha Java Coffee Shop in Downtown Honolulu. Dr. Gilman is a fisheries management consultant and he analyzes data from longline fisheries in the Pacific Ocean, so he talked to us about different bycatch mitigation efforts and issues. Although we have read about the fisheries' management difficulties for class, it was helpful to have Dr. Gilman explain his take on the tradeoffs and uncertainties. Data is very important for decision-making, especially around the Hawaiian Islands. We know that shallow-set swordfish longlines are more likely to have interactions with sea turtle populations in the surface waters; however, the deep-set tuna longlines are more likely to have interactions with false killer whales.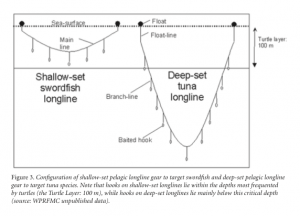 After that we headed to the Pacific Islands Regional Office (PIRO) of the National Marine Fisheries Service (NMFS) to speak with a range of scientists and managers. We had a full day discussing conservation issues related to sea turtles, albatross, false killer whales, corals, spinner dolphins, and monk seals. Our afternoon was packed with presentations from two CEM alums, Kim Maison and Nancy Young, as well as Laura McCue, David Schofield, Aliza Milette-Winfree, and Tracy Wurth (Happy Birthday, Tracy!).
The people we interacted with today at PIRO were all in the Protected Resources Division (PRD), which is an umbrella for the conservation of species mandated by the Endangered Species Act (ESA) and the Marine Mammal Protection Act (MMPA). We heard presentations on the unique challenges for each issue. It is up to the scientists and managers to identify the threats, opportunities, best management practices, and recovery plans. While the future of coral conservation may be an ecosystem-based management approach, the conservation of bycatch species, like false killer whales, could come from gear modification, or time/area closures, and/or marine aquaculture depending on what is environmentally sound, enforceable, and perhaps most important, economically viable.
We are very lucky to have had the opportunity to talk to the experts and managers. We realize that they are all very busy people and we are thankful for the time they shared with us. We understand just how committed they are to their jobs; marine mammal strandings do not always occur during normal business hours and sometimes policies have very strict time frames for data, analysis, and decision-making.
One of the major themes of today is that there is a lot of jargon in the science and the policy related to the conservation of any species, which is why good science communication and non-regulatory management, such as education efforts, are important conservation tools.