The faint alarm clock I'd been snoozing for many years began to blare deafeningly, leaving me no choice but to wake up. This introvert would be silent no more. My inner guilt for not acting sooner, mixed with anger and fear, led me to respond to a message about a local Women's March from a fellow graduate student.
I reached for the markers and scrap pieces of poster board in my closet and made something – my preferred means of expression when spoken words are difficult to form. While drawing block letters, I concentrated on what they stood for. I told myself that if I did this march, I needed to commit to working for what I'd be marching for.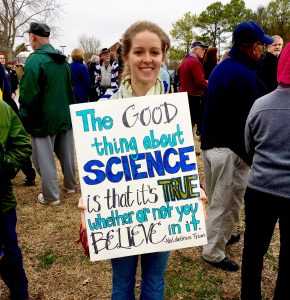 Since the sister march in New Bern, N.C., had been planned within a week, the organizers were not quite expecting the large crowd that showed up. The Marine Lab was well represented, and the feeling of solidarity with both locals and millions of people across the globe was invigorating. A clear statement was reiterated throughout the event: Today we march, tomorrow we work. The purpose of marching was to organize and energize us to take action. Although the flurry of social media posts and news coverage sent a strong message, marching alone would not accomplish our goals. There was much to do.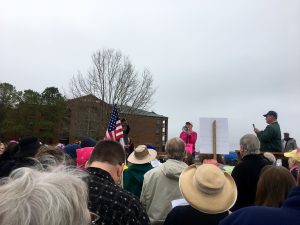 The march gave me a voice that I committed to using. Since calling your representatives is more effective than emailing, tweeting or signing petitions, I decided to start calling. That following Monday, I searched for scripts to use for a pertinent issue and nervously dialed an office phone number of Sen. Thom Tillis. I was surprised when a rather friendly voice answered. I stated who I was and where I lived, then briefly paraphrased the online script in my own words. The staffer on the phone didn't interrupt, and said thank you for calling (still in a very friendly voice) after I was done. It was easy, painless and took less than 1 minute. After that, my inhibitions about calling were completely gone and I continued calling other representatives throughout the week, including Sen. Richard Burr and Rep. Walter Jones.
While I'm still a novice in this area, a bit of online reading alerted me to some dos and don'ts when calling your representatives. One website I found very helpful is 5calls.org. The site's developers provide synopses on the issues as well as scripts and questions for calling your representatives. They determine which offices are the most appropriate for you to call and provide phone numbers. All you need to do is enter your zip code and click on an issue that concerns you. You can check off whether you made contact, left a voicemail, or skipped a certain call. This helps you keep track while also providing the satisfaction that one gets when checking something off a to-do list. The site also has open source code, so it could be used to support other causes if programmers so choose.
Politics has wholly permeated our lives, and all of us must use our voice instead of staying silent. If you haven't already, start calling your representatives. If I can do it, so can you.
"The work of today is the history of tomorrow, and we are its makers."
-Juliette Gordon Low
Phone Numbers for Representatives of Duke Marine Lab residents
Rep. Walter Jones, N.C.'s 3rd Congressional District
Greenville Office, Mon – Fri 9 am – 5 pm, 252-931-1003
Havelock Office, 2nd & 4th Tues of the month 9:30 am – 4 PM, 252-565-6846
D.C. Office, Mon – Fri 9 am – 5 pm, 202-225-3415
D.C. Office, 202-224-6342
Greenville Office, 252-329-0371
D.C. Office, 202-224-3154
Wilmington Office, 910-251-1058