"I'm really nervous," one of the 4th graders in our Girl Scout troop quietly confessed to me. We were at an event we'd been planning for over a month: a panel discussion with local women role models. I was surprised and concerned at her nervousness because she wasn't speaking in front of the audience that night.
I inquired further and she explained, "I've never seen a marine biologist in real life before." My co-leader Katharine works at the NOAA Lab in Beaufort and had invited a NOAA research diver, Jenny Vander Pluym, to be on the panel. This girl was particularly excited about meeting Jenny. Relieved and happy that it meant so much to her, I assured her it would be okay.
Yet I was also confused because we told the girls weeks ago that Katharine and I were both scientists and worked at marine labs. I thought back to when I was her age- oh, right. I probably hadn't thought a scientist was just any regular person I saw shopping at the grocery store. I probably thought their appearance had to somehow reflect their work. Maybe the girls didn't believe that Katharine and I were "real-life" scientists. Either way, I thought the panel discussion would help broaden all of our perspectives.
While planning the event we asked the girls who they wanted to invite as panelists. The girls offered ideas such as actresses, singers, lawyers, counselors, doctors, hair dressers, and (after some coaxing from Katharine and I) scientists. Taking these suggestions and some recommendations from our own personal networks, we invited women from a wide range of careers and roles.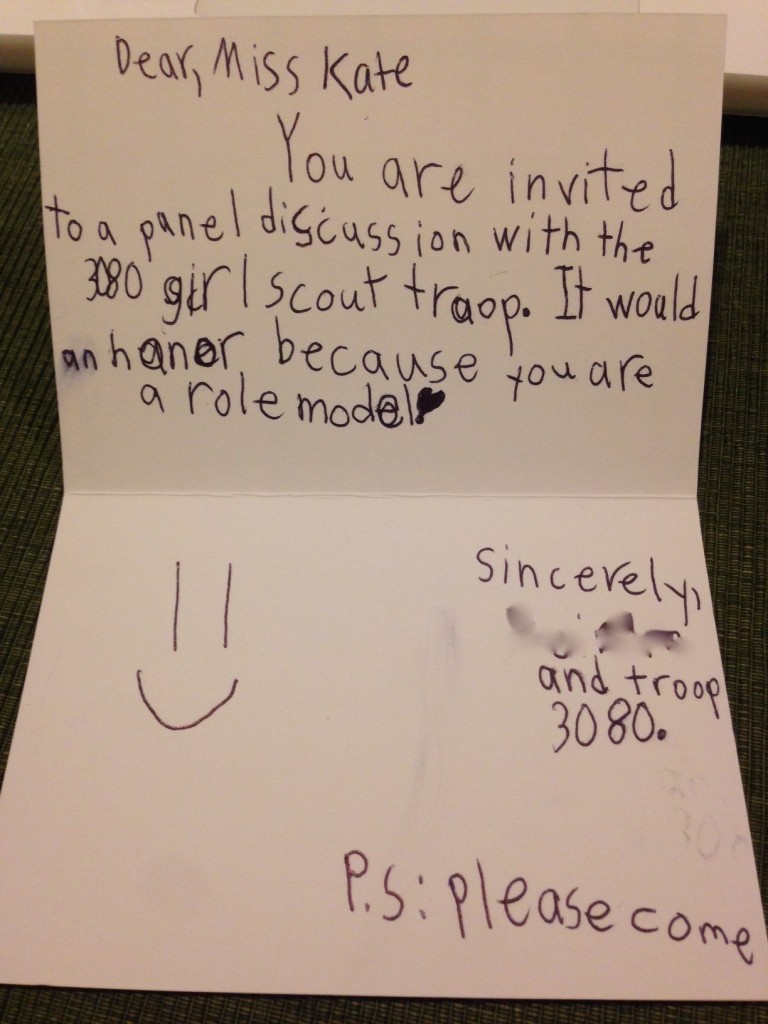 The final panel included a music and theater instructor, the owner and operator of a local salon, a Marine Corps officer, a social worker, a counselor, a Beaufort commissioner and Sleep Center supervisor, a marine scientist, and a police officer. None of the women could be described solely by their careers, however. Many were also currently graduate students, community volunteers, mothers, and grandmothers, and had previous roles and jobs from diverse backgrounds.
The event unfolded 10 times better than I could have imagined. A few other Girl Scout troops from Beaufort and Morehead City attended, along with many parents and guardians. The panelists were well-spoken and talkative. They described the good times and the hard times as the audience was taken along through each of their journeys and obstacles, with humor thrown in along the way.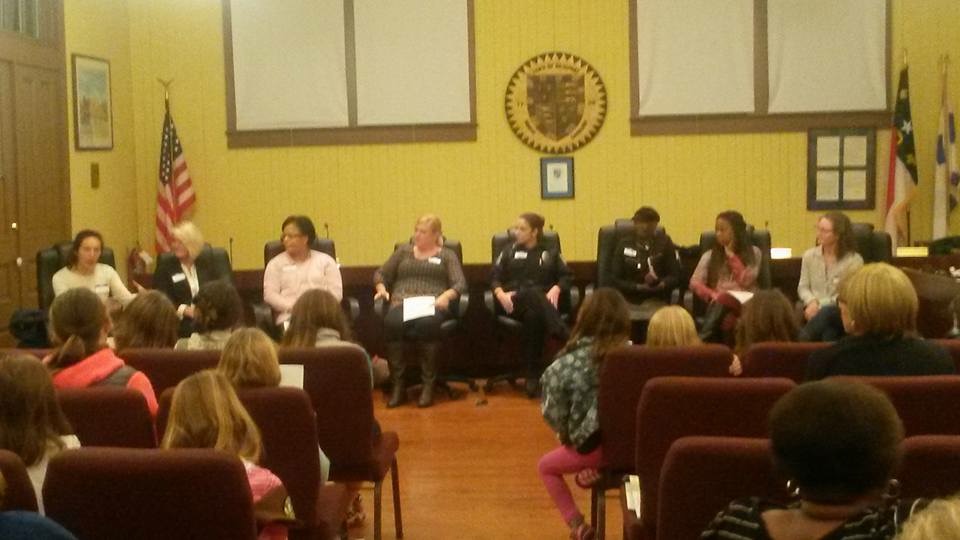 The girls asked the panelists who their role models were, what they did to get where they are today, if they ever disliked their careers, and what they had wanted to be when they were younger. The panelists spanned a few different generations, and their stories highlighted how a woman's experiences while carving her career path had changed over time. Most panelists described how their single mothers were their greatest role models and source of inspiration, signifying the effects of a constant female role model in their lives.
After the event, the girls eagerly talked to the panelists they connected with during the discussion. Jenny brought her diving gear and let the girls try it on, including the girl who was most excited to meet her. Katharine and I were overjoyed to see the girls connect with these women, and were thoroughly inspired ourselves from their stories.
With the main goal of learning about different careers came another lesson that night- a person's ambitions, drive, character, and accomplishments cannot be deciphered by their appearance. Except for the woman wearing a police uniform, none of the women's appearances gave away their career choices or capabilities. Hopefully meeting these women in our community helped the girls realize that people all around them might inspire them- you just need to take the opportunity to learn.