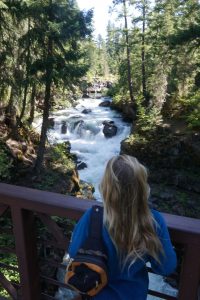 We started the day early in the Natural Bridge Campground, nestled in the Siskiyou National Forest. Packing up camp early, we left the rig to walk along the Rogue River, following signs explaining that at a certain point it was possible to watch the entire river disappear beneath an old lava tunnel. Crossing a narrow walking bridge, we stopped for a moment, mesmerized by the swirling currents below our feet. The water is old—melted water from the Mazama Glacier, and it roils light blue as it disappears beneath the earth before resurfacing downstream 200 feet later.
Hopping back into the truck, we drove 40 minutes to Crater Lake National Park with the goal of getting in a good hike.
Beating most of the crowds, as it was still early morning, we decided to run up immediately to the rim of the caldera for a look. To say that Crater Lake is stunning would be an understatement—it is without a doubt a spectacular, almost other-worldly place. Its cobalt blue color mesmerizes its visitors, and we stared for several moments at its still surface, stretching nearly 5 miles to the other side, and rimmed by high cliffs and whitebark pine trees.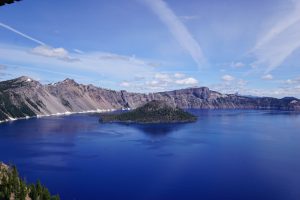 The history of the lake fascinated me. Around 400,000 years ago, repeated volcanic eruptions built up Mount Mazama. Oozing lava from these eruptions added layer after layer to the mountain's sides, until the volcano rose in total 12,000 feet from the ground. Around only 7,700 years ago, the most violent of these volcanic eruptions occurred suddenly, spewing a huge column of pumice and ash from a vent to the northeast of the summit. Newly formed vents (formed as a result of the eruption) allowed pumice, ash, and gas to escape down the mountain's flanks, until the empty magma chamber collapsed in on itself, the mountain falling inwards, unable to support its own weight. The result was a deep, high-elevation caldera.
After this spectacular eruption (one that caused lava to run down river valleys for up to 40 miles) and even more spectacular mountain collapse, the smoldering caldera gradually cooled and began to fill with rain and snowfall. Over hundreds of years, it slowly became what is now Crater Lake.
Because no streams feed the basin, Crater Lake's water is almost entirely sediment free, and startling blue. Enormously large, the lake is 6.02 miles across at it's widest point, and 4.54 miles across at its most narrow. At 1,943 feet deep, it is also the deepest lake in the United States, and gorgeously rimmed on all sides by high rocky cliffs.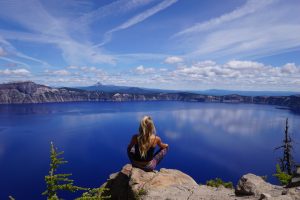 Grabbing a map, we headed up a trail towards Garfield Peak, pushing quickly up along the lake's rim for a better view. We passed snow patches and fragile wildflowers, their purple petals waving to us on delicate stems.
The view from the top of the peak (after a scramble up some steep snow banks) was breathtaking. The sapphire blue lake spread out below us, nestled into its sheer rock walls, and framed by distant snow-capped mountains.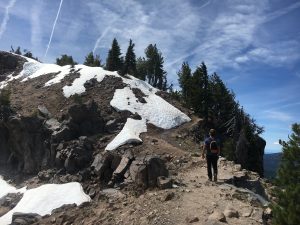 The local Native American tribes hold much of this area sacred, and it was easy to see why. We looked out over this beautiful space with a cataclysmic history, watching Clark's Nutcrackers scoop up whitebark pine cones for a high-energy lunch of seeds (the trees actually depend on this activity, as the birds cache some of the seeds, which often go forgotten and sprout the following year).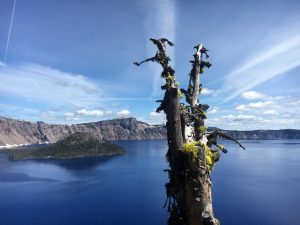 It's impossible to know how long this beautiful spot will remain how it is now—the area is sure to see more violent change at some point in the future. For now though, it remains one of the few places that manages to awe all of its visitors—a potent reminder of the amazing beauty that this blue planet holds dear.