"Misty of Chincoteague?" I squealed.
"No, that's Virginia, this is North Carolina," my classmate responded.
"Yeah, but the ponies!" I insisted.
We hadn't come out on this boat to see the ponies per se (and they're not actually ponies, just small horses), but that's what I fixated on as the words of our professor–words like longshore current, inlet migration and replenishment–fell on deaf ears. Instead little girl dreams of wild-haired ponies galloping on the beach filled my head until my ears were warm and tingly. And this was after catching a mere glimpse of the ponies (I'm going to keep calling them ponies, because it's more fun) as flea-size specks from our boat a mile offshore.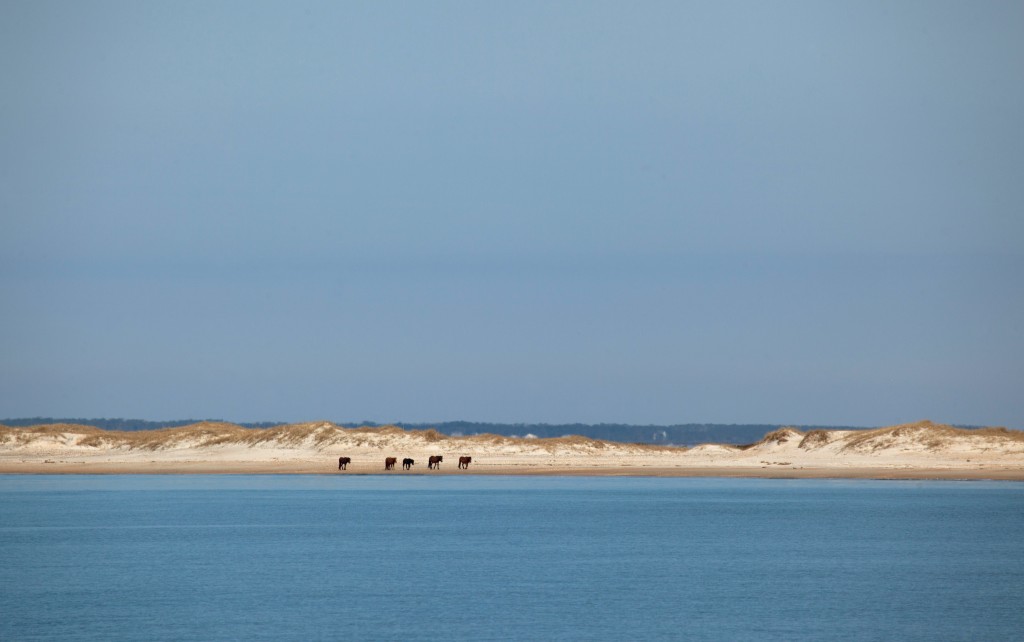 The National Park Services (NPS) guide with us explained that the ponies had been the center of quite a controversy, which essentially stemmed back to what does the term 'invasive' mean, and how far back do we go to determine what the "natural state" of a place is? In the end, the ponies on Shackleford Banks, which some think originated from horses fleeing sinking Spanish ships, stayed put despite some dissenters who felt the ponies had no place on the islands. I was curious, as I'm sure many visitors are, how they procure fresh water. The NPS guide explained that barrier islands have a fresh water lens that while not too far below the surface is deep and wide and provides all the water the ponies need–they aren't given any outside food or water and live solely on what the island naturally provides.
The previous day we'd explored south Core Banks and the Cape Lookout Lighthouse and National Seashore to see an example of healthy mature dunes, which are thought to protect from coastal erosion and storm surge–a pressing issue facing many beaches in the Outer Banks of North Carolina. It had been a day full of hunting for washed up treasures: fossilized shells, shark egg cases a.k.a mermaid purses, and even a dolphin carcass (sad and gross but also fascinating). I ended the trip appreciative for the protection natural dunes provide from the elements as well as the comfy seats they provided for our picnic lunch.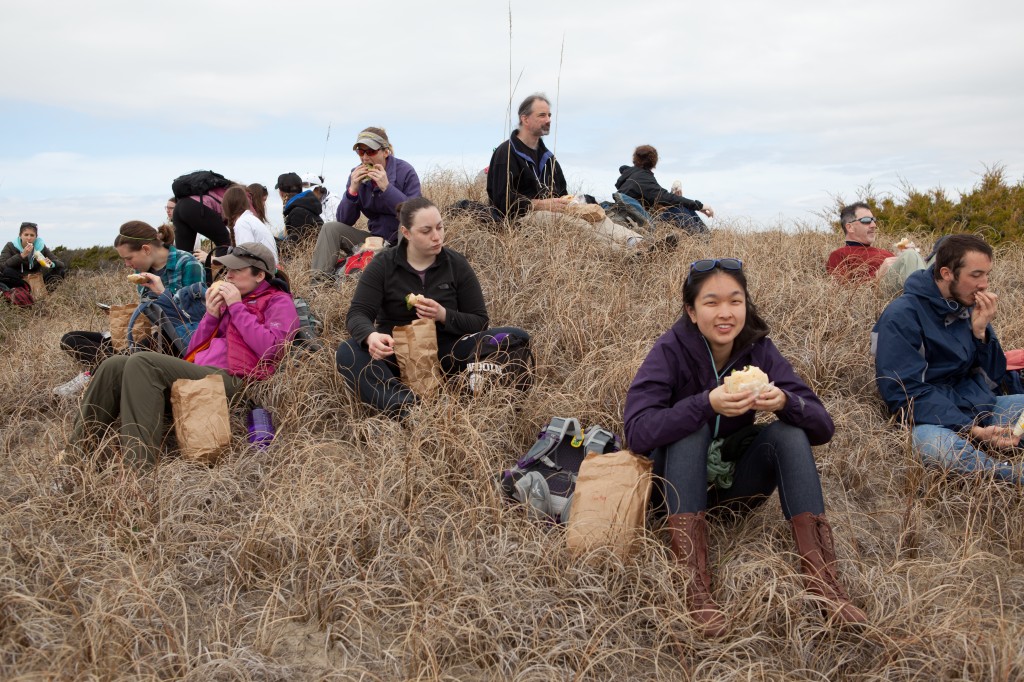 Fast forward several weeks down the road, and here we are in July (holy smokes!). Classes are long over, and I've been working with the Environmental Defense Fund (EDF) in the Raleigh office's Cuba program on marine conservation policy (more on this in my next post). Recently, the entire 500 EDF staff members went on a week-long retreat, and I decided to head to Beaufort to meet with my advisor and enjoy the coast while I worked remotely for EDF. It was a great decision. I stand up paddled (SUPed) at the end of each workday, which meant I could explore the same pony-inhabited islands I'd frothed over weeks earlier up close and personal.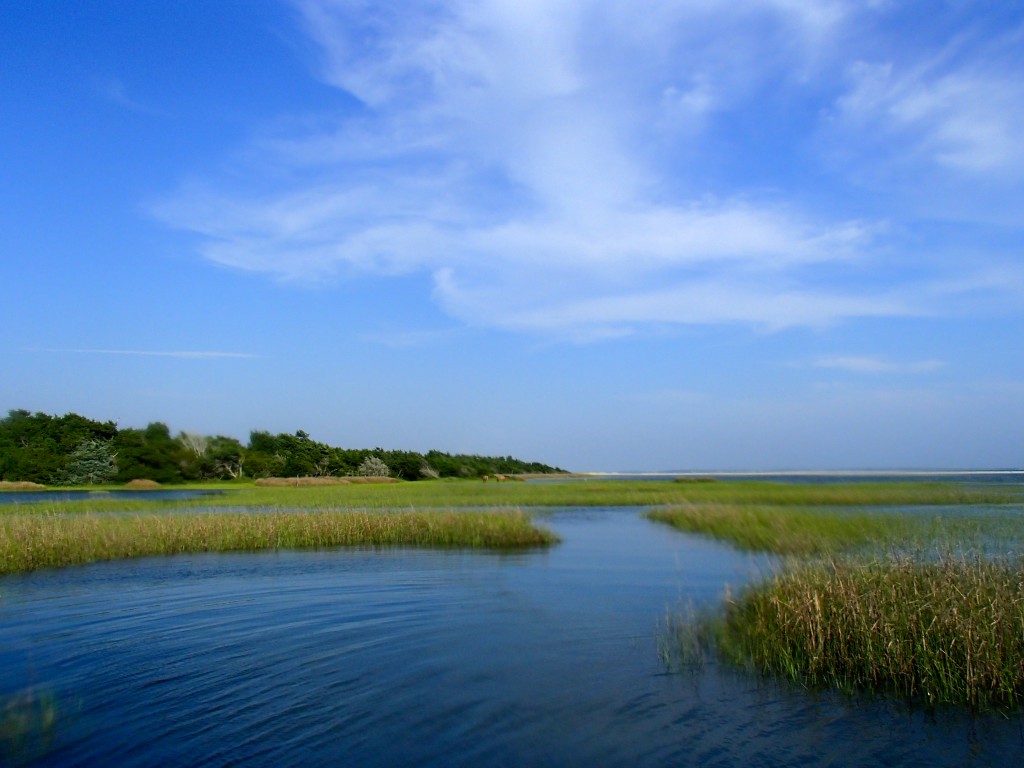 My first day out, I struck gold. After pushing off from a small gravel landing at the marine lab and crossing the inlet over to Carrot Island, which is part of the Rachel Carson Reserve, I came around a point and there she was waiting for me–a beautiful chestnut mare lazily munching on smooth cordgrass–a mainstay of the ponies' diet, which I imagined tasting like over-salted spinach. I watched her for a while and remembered teenage days spent tearing through the hills of San Diego on my best pal, Chicklet. Aside from both being equines, there was no real resemblance between the two, but it didn't matter, I was transported.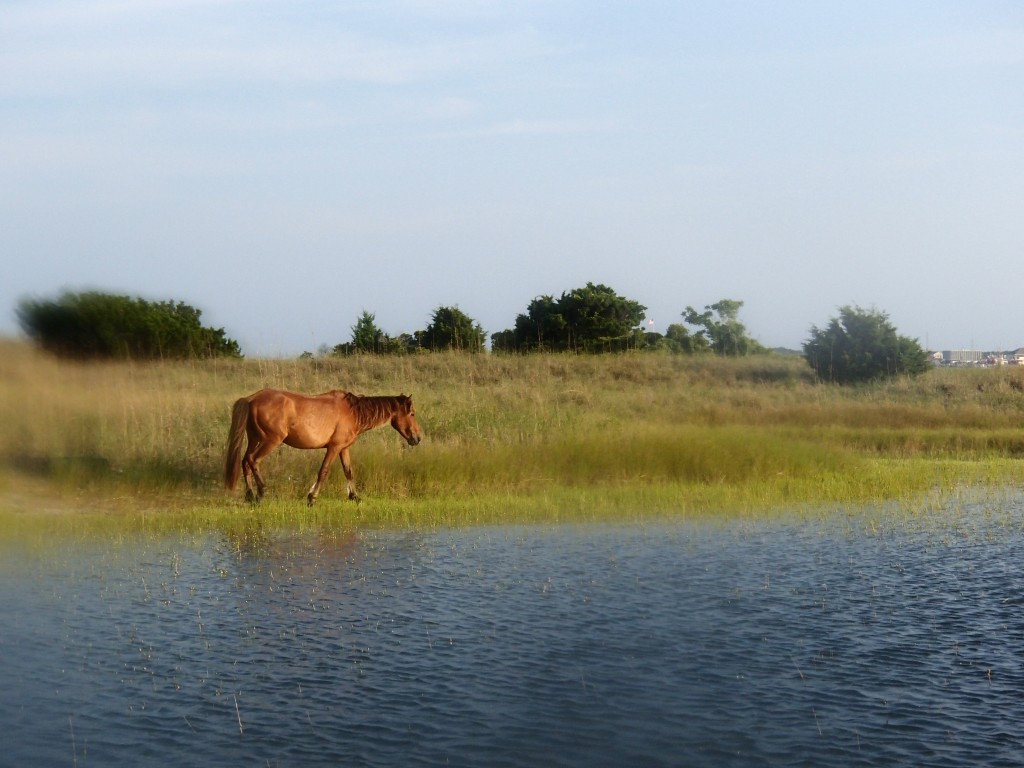 The mare ended my daydreams when it stopped grazing and splashed off into the shallow water. I continued paddling around the more exposed backside of the Carrot Island marsh and eventually came across two more ponies. Two stallions, who looked like lifelong pals. One was very old and looked as though it might fall over as  its eyelids drooped and it was consumed with sleepiness. I danced and cartwheeled around like a kid and did everything in my power not to walk up to them and try to pet them (the State asks visitors keep a minimum distance of fifty feet.)
On my SUP-safari the following day, I counted myself lucky to see these two buddies again, especially considering only 33 remain in the Rachel Carson Reserve. At one point during the late 1980's, the pony population reached it's peak at some ninety horses. This was too many for the reserve to sustain, so many of them died from disease and the rest were removed from the island. Now the State manages the current population aiming to keep it at around 30 animals.
The sunset at the return of each day was delicious and I tried to savor each one, but my days at the lab were over too soon. I was grateful I'd be returning here for my spring semester next school year. As I paddled back over to the marine lab on my final day, I sensed I could spend the rest of my life exploring the Outer Banks and still there would be more to see. At the very least I would have to return to say hello to my new four-legged friends.