When I first sent in my application to the Nicholas School roughly a year ago, I'd never visited Duke's campus. I'd barely set foot in North Carolina, except when driving through on my way to visit my in-laws. It wasn't until after I'd already been accepted that I finally got to check it out in person.
A few weeks ago, I took advantage of the nice weather to walk around campus a take some photos for those of you who might be trying to get a better sense of what life is like as a Nic-Schooler.
As an MEM candidate in the Nicholas School of the Environment, I spent most of my time in Environment Hall. (Okay, so I spend almost all of my time here…) But even though most days I'd rather be exploring Durham or going for a hike in the nearby Eno River State Park, it's a pretty great place to have class.
Environment Hall, home of the Nicholas School, was completed in April of 2014. The building itself is LEED certified, which means it's super sustainable. (Surprise, surprise…) The roof is outfitted with solar panels and a rooftop garden, and the inside is always filled with a ton of natural light.
Visit Site
The front of the building is landscaped with all sorts of plants native to this part of North Carolina. And of course, you can't miss the iconic stone wall which greets us every morning on our way to class.
In back of the building, there is actually a small orchard. The trees growing here are native varieties of figs, plums and pears, which only require a small amount of water, and are irrigated with rainwater collected on the roof.  The tables and chairs and chairs scattered around the courtyard are a favorite lunch spot of mine when the weather is nice enough.
Next is the Levine Science Research Center (LSRC). This massive building houses offices and classrooms for a variety of the science programs including the Nicholas School. The couches on the first floor common room are a favorite study spot of mine. They're quite comfy, and I find it quieter than Environment Hall.
The LSRC Courtyard is usually buzzing with one student gathering or another. Whether it's Halloween Pumpkin Party or an International Potluck, it's one of the best places for gathering as a community. (And the scenery ain't half bad, either!)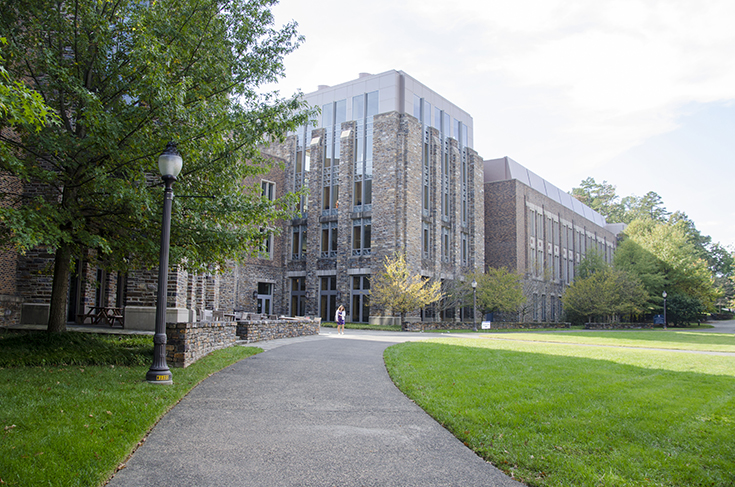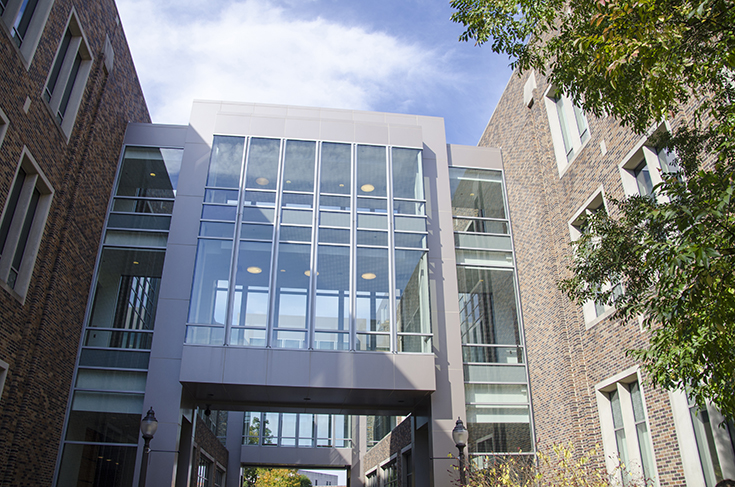 Outside of the Nicholas School, I spend a surprising amount of time at the Engineering School. No— I'm not taking any engineering courses anytime soon, but Twinnie's, the coffee shop on the first floor, is the closest place to get a really good cup of coffee. (Although, if I'm not rushing to another class, I prefer Joe Van Gogh in the Bryan Center.)
Of course, no graduate student can survive without the library. Duke has no shortage of libraries on campus, but Perkins and Bostock (pictured above) are the main two. The staff at the library are incredible, and they're always available to help search for the perfect resource. There's also a room on the second floor that looks straight out of Hogwarts.
If you're looking for food, look no further than West Union. This facility just completed construction in the fall and it's gorgeous both inside and out. They have everything from southern comfort food, to fresh made crepes, and a sushi bar. Upstairs, there are even stations for cooking classes and demonstrations. It's definitely way nicer than anything I had on my undergraduate campus!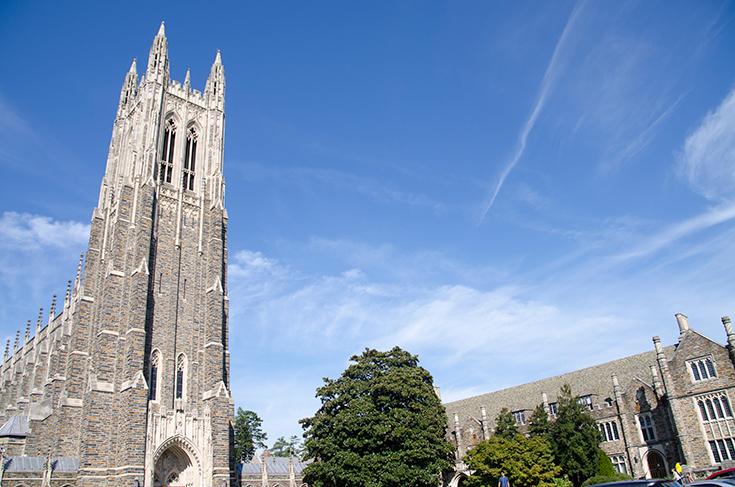 Of course, I couldn't give a virtual tour without mentioning the Duke Chapel— especially now that renovations are completed. This building stands as the centerpiece to the rest of campus. The above photo doesn't do it justice. I spent the last 7 years living in Washington, DC, and the Duke Chapel always reminds me of the National Cathedral. Inside, the stained glass is stunning. And, if you get the chance to visit the inside in person, don't forget to turn around and look at the beautiful golden organ!
And of course, I'd be remiss if I didn't mention Duke's abundance of greenery. I people-watching on the various quads or sitting in the shade of the trees. (When the weather is nice, of course!)
Hopefully this was useful to those of you interested in the Nicholas School, but unable to visit in person! (Or for those of you— like me— who just want an excuse to look at fall foliage!) I can't wait to see you on campus in-person soon!