Today started out in a similar fashion to the previous two or three. When we got back from our nightly beach patrol the sun was up, the roosters were crowing, and so it was time to go to bed.
Some of us headed over to Abbie's School, a private one-room school run by an expat named, yup, you guessed it, Abbie. One the first night on the beach a few of us met her, as she walks Zoni Beach each morning checking for new leatherback nests. Abbie and her students also create signs and guides which are placed by the nests to inform beachgoers about the turtles. When we arrived at the school, the students were busy working on art projects. They eagerly told us all about their recent trip to New York City and Abbie proudly showed off her students' art work. In fact, the entire building was enrobed in a nature scene painted by students. After sharing our interests and answering a few questions about college life, time was up and it was off to lunch.
After six or seven hours of glorious sleep (more sleep for those of us that didn't go to Abbie's School) we went into town for lunch at a local deli/bakery. We then chased our sandwiches with ice cream and headed back to the house to have a lazy afternoon before our final night patrol on the beach. For dinner we ate at what has become one of our favorite restaurants on Culebra, Zaco's Tacos. They have great juice that is fresh-squeezed each day and tastes so much better than the bottled juice we get in the continental US.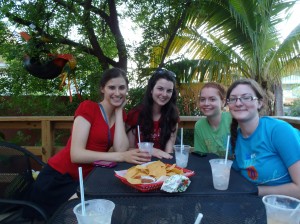 Natalie F. , Angela, Natalie A., and Kristin at Zaco's Tacos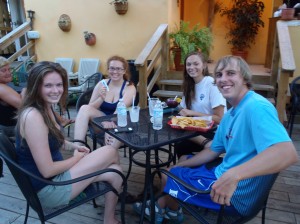 Alyssa, Allie, Sasha, and Mike at Zaco's Tacos
After arriving back at the house we sat down outside on the porch to hear Rita, one of the techs, give a presentation on the research she did for her master's degree. We especially enjoyed this because it gave us insight into what it is like to conduct long-term research with sea turtles. Rita worked with green turtles in particular, measuring their average growth rate in centimeters per year. Interestingly enough, she found that the green turtles in one of the bays of Culebra have the highest growth rate per year ever found in a green turtle aggregation. Rita also found that most of the sea turtles caught in Culebra are juveniles, though some larger sub-adults are sometimes also caught. This tells us that the vast majority of the turtles in the aggregations around Culebra are juveniles and that the sub adults engage in permanent migration to other adult foraging habitats. Other researchers have caught turtles tagged in Culebra in places hundreds of miles away. Many have been recaptured in Nicaragua!
Where's the wind when you need it? This was the question we were all asking on Zoni Beach last night. However, we can say with some certainty that we have all become very closely acquainted with the insect population of Culebra Island. It really felt a bit like a scene from the Hunger Games as we were huddling together, rocking back and forth or trying to cover every single inch of our bodies to shield any exposed skin from the sand gnats and mosquitos. The night wasn't all sand and bugs though; we actually did see an animal swimming parallel to the shore as we went on one of our patrols. At first, we thought it was a rock, but after walking down the beach for a bit and returning to the spot, we noticed that the rock shaped creature was breathing. Unfortunately, the animal was not swimming towards the shore. Scooby, one of the techs, told us that it may have been a manatee or a turtle that was scoping out the shoreline, deciding where to nest. We hoped the elusive leatherback would finally show itself at some point during the night, but alas, it did not.
Though the leatherbacks are remaining a bit elusive, we're still hoping that Scooby and Rita will see one tomorrow night at Zoni and call us so we can race to the beach to see it! Tomorrow we're headed a coral reef called Carlos Rosario to capture hawksbills.