We explore Puerto Rico's rainforest with Dr. Robert Mayer, Duke Marine Lab alumnus
Sleep deprivation reached its peak this morning, when we tumbled out of bed at 4:30 (or thereabouts) and stumbled into the Ballena Blanca and Tortuga Verde for one last trip into town.  Moat of us tried to sleep on the ferry ride across to Fajardo, with only limited success on the steel seats.  We arrived at the ferry dock at Fajardo, which was  a teeming mass of humanity, with people coming, going, and milling about.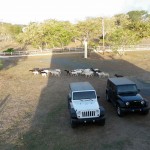 Our two beloved jeeps and some of our neighbors on Culebra
In Fajardo we were met by Robert Mayer, who did his Ph.D. with Richard Forward at DUML and is now an Associate Professor at the University of Puerto Rico at Aguadilla, at the northwestern tip of the island (Fajardo is at the northeastern tip). Robert and his graduate student, Santos, drove us out of the madness of Fajardo and to the relative calm of the El Yunque rainforest.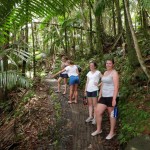 We toured Puerto Rico's lush rain forest with Robert Mayer
The rainforest was a dramatic change from the arid landscape of Culebra – we visited the interpretive center and made a short hike into one of the waterfalls.  Despite our best efforts, we did not manage any glimpses of the highly endangered Puerto Rican parrot.
After our hike we stopped for lunch and then drove back to San Juan on the coastal route.  Robert told us some of the challenges to the conservation of leatherback turtles on his side of the island, where management efforts are not as well developed as on Culebra and where threats such as nest poaching still exist.
On our way into the city Robert showed us the beaches and bays that he grew up sailing, snorkeling and surfing on; it was a great way to re-enter the city.  After some impressive navigation in the narrow streets, Robert and Santos dropped us off at our hotel in Old San Juan where we napped, showered and eventually re-emerged for mojitos and a great Puerto Rican-Indian dinner.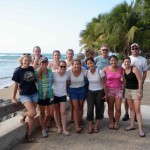 We pose with Robert at a beach just outside San Juan
It's been a great week.  We've learned about field techniques for sampling sea turtle populations and how dependent these methods are on weather and the behavior of our study animals. Many thanks to Carlos and his crew for their hospitality, expertise and good humor and to Robert and Santos for showing us the beauty of Puerto Rico.