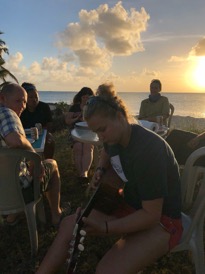 After dinner, Jer brought his guitar out to the dinner table to play us a few songs. We passed the guitar around and revealed some hidden talent in the group. What started off as a few songs turned into a full-blown sunset sing along that lasted a couple hours. After our jam session, we changed into our gear and went for a night snorkel. We saw quite a few lobsters, a couple octopuses, a tiny stingray, a pufferfish, and lots of other nocturnal creatures. I was very happy at this point that I had a wetsuit with me; it was a bit chilly. At one point we all turned our dive lights off, kicked our fins, and saw tons of bioluminescent algae. Ashley and Alessandria had to leave to snorkel five minutes early due to fear of the lobsters and sea urchins. After we all got out of the water, we retreated to our cottages for an early night to rest up. We woke up bright and early at 7:00 am and got ready to go to the east end of the island for the first time since we landed in St. Croix.
We drove 45 minutes and reached a stop that I later found out is the eastern-most point of the United States! We hiked down a bit to an active green turtle nesting site and surveyed the beach for fresh nests. These are characterized by tracks that look almost like tire marks leading to a lot of fluffy sand, indicating that a turtle had been there digging and throwing sand around. Turtles really make a mess of the beach when they lay eggs. Although there were no new nests in sight, we did see some dried eggs shells from a previously hatched nest and some amazing views. There were crashing waves in front of us, and beautiful mountains behind us. I'm still in awe of this beautiful place. We stayed on the beach for a bit and had a snack before heading back up the hill.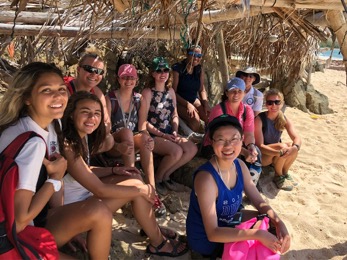 After leaving the nesting beach, we drove to Christiansted, the sister city to Frederiksted. Even for a Saturday, the town seemed empty and many of the shops were closed. Nonetheless, we made the most out of our small weekend as tourists before going to back work on the turtle project. We walked around the town and looked in souvenir shops, jewelry boutiques, and sea-side cafes. My favorite part was seeing tons of wild chickens and their baby chicks following them. They were everywhere! Walking in the parks, around buildings, and even down the sidewalks with us. How cute! After getting all our souvenir shopping done, we drove over to a local restaurant and got a St. Cruzan specialty: roti. We headed back to the cabin, had lunch, and were given the rest of the afternoon off. I spent it in the water, getting the most out of the ocean while I still could. Some of us spent the afternoon reading, napping, or even building a sand castle. It was a nice couple of hours to spend resting. We had dinner and then were given a lecture on cold stuns and strandings by Matthew. After the lecture, we got ready for our last night on patrol. We split up into groups and began our final journey on Sandy Point. By 10pm, we had a leatherback on the beach. We all rushed over to watch her nest. Unfortunately, she decided to nest too close to the high tide line, and we had to relocate her nest by holding a bag under her cloaca, catching the eggs, and reburying them higher up the beach. Although egg relocation was required, it was very exciting to see the process. We waited a while for the turtle for finish camouflaging her empty nest and leave the beach. After she departed, we decided to end our trip on a great note and follow suit. We headed back to the cottages, got to bed by 12:30 am, and tried to forget the fact that we are leaving in the morning.