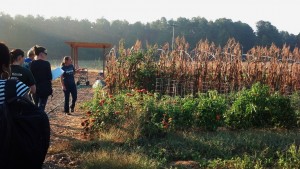 I don't know about everyone else, but Monday had it in for me. Besides having to study for midterms, the sky opened up as I was walking from Duke Gardens to the Levine Science Research Center. For those of you who don't know, that is twenty minutes of cold, wet, and damp. Though I had a raincoat, the rained poured down with such force that everything from my knees down soon became sopping wet. Sadly, I'm pretty sure that I would have been drier had I spent twenty minutes wading through a kiddie pool. Through the misery that is rain-soaked jeans, one thought did brighten my outlook, at least a little. The Duke Campus Farm needed this rain.
I had visited Duke Campus Farm for the first time the previous Friday. As part of a field trip for Community Based Environmental Management my classmates and I had dragged ourselves out of bed before sunup to meet at the L.S.R.C. at 7:30 a.m. – thankfully our TA brought us coffee. We were about to embark on an all-day field trip to different environmental organizations in the surrounding area, and the farm was our first stop (let the record state that all of Friday was sunny and beautiful).
The Duke Campus Farm is a one acre fruit and vegetable farm dedicated to the students and run by the students, our guide explained. The produce grown on the farm is sold to the Duke dining halls as well as to local community members, and classes and events are held year round for anyone who is interested. Community workdays are offered regularly as another avenue for those who want to get involved.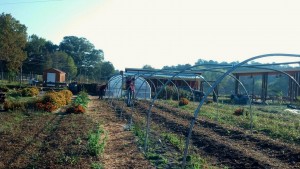 This was all interesting, but as we stood in between the rows of flowers and vegetables, I found myself continually distracted. We had arrived a little after 7:45 a.m., and the sun was illuminating the golden corn stalks and the field beyond. I don't usually think of farms as "natural," as they are grown and managed primarily for human use. Yet, that morning it was wild birds that had attracted my attention. Eastern Phoebes chased each other among the corn stalks, Eastern Bluebirds perched delicately on the metal tomato structures, Northern Mockingbirds chattered in the trees by the road, and at least half a dozen other species I couldn't identify constantly flew back and forth between the farm and the field. I saw so many birds I am seriously considering returning with my camera and a pair of binoculars to do a bird count.
Even for those of us who were not continually distracted by the avian morning ruckus, the Duke Campus Farm was peaceful and serene. I think it reminded all of us that farms are part of local ecosystems, from the birds that we saw to the insects beneath the soil to the food grown and consumed by local Durham-ites. At the very least, Duke Campus Farm gave me a warm, golden image to daydream about as I watched the sheets of rain fall continuously on the rest of my manic Monday!