Another sunny day in paradise! Our fourth day of adventure began with kidnapping spinner dolphin specialist, Carlie Wiener, and heading up to the west coast of Oahu to a town called Waianae. Here, we boarded a catamaran and sailed off to sea in search of whatever we could find!
Not even before we got out of the harbor, our captain sadly announced that we would not be able to snorkel today due to rough waters. The groans of disappointment were shortly followed by an uplifting cheer when the captain then announced that there would be an open bar onboard! YAY!
For those whom the "Liquid Aloha" did not cure their seasickness, our savior Kenady, luckily had Bomine on hand, which many of us quickly took as the 3-5 ft ocean swells loomed in the very near distance. Just our luck – a huge swell is rolling in tonight, bringing 35 ft waves to the North Shore!  Fortunately, the majority of us had iron stomachs…
Our work today, however (with house specialty guava mimosas in hand) was different. Rather than assisting with green turtle health assessments, algae infestations, and albatross wrangling, with our Duke name proudly attached, our mission today was undercover- or at least we tried.
Why were we top-secret ninja agents you might wonder? Well, our mission was to determine whether HawaiiNautical (the dolphin tour operator we were on) was keeping in compliance with the DolphinSMART accreditation program. We didn't want our presence to affect the way the tour operator ran his tour, knowing a group of marine mammal conservation biologists were onboard.
DolphinSMART is a program established to promote responsible dolphin viewing and stewardship of wild dolphins and to minimize the potential of harassment. It is a partnership program developed by NOAA, NMFS, The Whale and Dolphin Conservation, and the Dolphin Ecology Project. Tour operators can voluntarily become DolphinSMART certified after going through a series of workshops, a screening process, and subsequent evaluation to ensure that they provide education and outreach materials to guests and comply with the Marine Mammal Protection Act (MMPA) and other responsible viewing guidelines.

Some passengers onboard thought we were just plain tourists who all happened to get along really well. Others complimented us by asking if we were part of a volleyball team (those girls are in shape)! Eventually the truth finally came out, which was totally OK because the tour operator was doing a great job, regardless of whether we were there or not. In fact – it even sparked an interesting question posed from another passenger onboard – are whales affected by lightening?  Andy Read was stumped. Yahoo answers anyone? http://answers.yahoo.com/question/index?qid=20100821155542AAzuwgj
Along our tour we came across some humpback whales spouting in the distance. As we slowly approached, turned off the engine, and viewed from at least 100 yards (all guidelines in compliance with the DolphinSMART program) we witnessed a humpback whale calf breaching at least 9 times in a row! This graceful, aerobatic behavioral display was simply magnificent and set off a slue of excited and awe-struck responses from the passengers. Videos to come!
We then left our whale friends, spotted a green sea turtle popping it's head up, and then finally came across a group of spinner dolphins traveling in the near shore bay area. At this point in time, you might be wondering why does the DolphinSMART program even exist?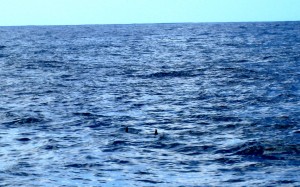 The issue with spinner dolphins in Hawaii has to due with their natural life history patterns and the role human behavior plays in it. Spinner dolphins forage in deep, offshore waters at night when their prey swims to the surface. During the daytime, they move onshore to shallow bays, where the animals are safer from predators and can "sleep." Since dolphins are mammals, they are conscious breathers and must think about every time they come to the surface to take a breath. As a result, they only rest one half of their brain at a time, and switch off halves, until they are fully recharged and ready for the next foraging bout. Talk about sleeping with "one eye open."

The caveat to this ingenious physical and behavioral adaptation is that the dolphins are on a 24-hour sleep schedule, which means that if their sleep time is interrupted, they have to wait a whole other day until they can sleep again. I think I speak on behalf of many people when I say – I do not function well on little sleep. Well the same goes for the dolphins! They become susceptible to predators and their overall foraging success may decrease.
We were fortunate enough to learn more about this topic from Carlie, who presented her research on Hawaiian spinner dolphins in the auditorium of the Waianae Public Library. Carlie expressed that the most effective way to manage this human-wildlife issue is by trying to change human behaviors and interactions with the animals, not the animals themselves.
By building a strong relationship with the community and educating tourists about their impact on marine wildlife, it is the hope that people will want to preserve this species so that they and their children, and future generations can continue to responsibly enjoy viewing these marine megafauna for years to come!
The day ended early in preparation for our 5:30 AM departure time for the public tuna auction tomorrow. Hopefully, us poor grad students can pool our resources and bid on one of the big guys! Stay tuned to hear about our success…or not!