While the tale of the Great Pacific Garbage Patch is known to many, I first saw the impacts of the Patch following a trip to the beaches of Hawaii's island of Oahu. Upon our arrival at Waimanalo Beach Park on Oahu's southeastern coast, the washed-up marine debris was immediately visible along the sandy shores. Our class then met with Sustainable Coastlines Hawaii to learn more about marine debris challenges and initiatives within the Hawaiian Islands.
Sustainable Coastlines Hawaii is a local non-profit that started in 2011. The organization's Executive Director, Kahi Pacarro, spoke to us about their three-pronged approach to addressing marine debris. This approach includes community events (beach clean-ups), educational outreach and awareness campaigns, and corporate partnerships.[i] Since 2011, Sustainable Coastlines Hawaii has hosted over 17,500 event participants and has recycled over 27,000 pounds of marine debris.[ii]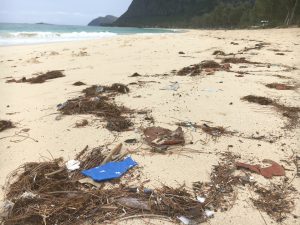 During our meeting, Kahi emphasized the range of detrimental effects marine debris can have on ecosystems and health. For example, it is estimated that marine debris kills about 100,000 marine mammals and 1 million seabirds every year as they mistake various plastics for food sources.[iii] In addition to the aesthetic and animal impacts, plastic pollution is harmful to human health as well. Simply put, as fish consume and absorb pollutants and toxins from plastic at sea, the toxins concentrate in the fat tissues of organisms, or bioaccumulate, and are magnified as they travel up the food chain. As humans, we are then exposed to these toxins through the consumption of large fish species. While these impacts are the same around the world, Oahu's windward side is directly exposed to debris collection from the North Pacific Gyre making the beaches and surrounding waters extremely vulnerable to this form of pollution.
Luckily, our meeting with Sustainable Coastlines Hawaii was not all bad news. As our class huddled around their traveling education station, a redesigned shipping container full of educational materials, Kahi highlighted the organization's Four-Rs approach to a solution. These Four-Rs include: Refuse, Reduce, Reuse and Recycle. A large portion of the debris that we see washing up on shores is made up of single-use plastics. This is why the first R, Refuse, is the most important in the eyes of Sustainable Coastlines Hawaii. If we, as citizens of the world, are able to cut back on our single-use plastic consumption (for example: plastic bags, straws and plastic utensils) then there will be less trash in our landfills and oceans.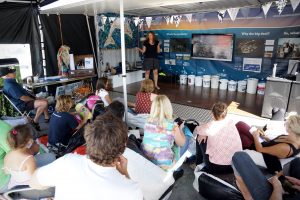 Moving forward, Kahi continues to push education and beach clean-ups as a viable solution to spreading awareness about the impacts of marine debris. He notes that trash-lined shores on previously pristine beaches help locals easily recognize that there is a problem. This visibility also makes the clean-up process an extremely accessible one. On a more global scale, Sustainable Coastlines is looking forward to growing their partnerships with organizations like Parley for the Oceans as they prepare to unveil a new campaign that will generate a useable product made from recycled marine debris.
[i] Sustainable Coastlines Hawaii. Overview: Our Impact. http://www.sustainablecoastlineshawaii.org/about/overview/ May 2017.
[ii] Overview: Our Impact
[iii] Sustainable Coastlines Hawaii. Education. http://www.sustainablecoastlineshawaii.org/education/education-overview/ May 2017.