Why anyone would decide that three o'clock in the morning is a good time to run a loud, obnoxious street sweeper up and down the street of our current residence at the University of Hawaii at Manoa is beyond me. After long, tiring days of hiking to scenic lookouts, snorkeling in pristine bays, speaking with top experts in our chosen field, and photographing and observing adorable monk seals (don't you feel so bad for us, reader?), all we want is a good night's sleep before waking up to go on a relaxing boat ride to see spinner dolphins. This is made near impossible by the intolerable and formidably stupid street sweepers. Today, however, we had the eye-opening experience of being the street sweepers, so to speak. While we didn't exactly join the city's maintenance staff, today's spinner dolphin boat tour and talk with spinner dolphin scientist Carlie Wiener put ecotourism operations and disruptions involving the nai'a (Hawaiian for dolphin) in an interesting light.
Spinner dolphins are graceful, mesmerizing creatures named for their acrobatic, airborne spins. They operate on a completely opposite schedule from us, spending their days resting and recuperating in and near shallow bays after an intense night of feeding in the open ocean. These conflicting schedules pose a substantial threat for the sleepy spinners when massive amounts overly stoked humans invade these bays. Most spinner dolphin cruises on Oahu, and all cruises on the Kona Coast of Hawai'i Island, put guests right in the water with the dolphins, often resulting in physical contact with the animals and sometimes even an attempted ride. Some believe dolphins have therapeutic and healing abilities, leading to extreme interactions, such as dolphin assisted birthing. The interactions are highly disruptive to dolphins and don't allow them to get the proper rest they need for their vigorous foraging at night, much like how the street sweepers at the university impede our sleep.
In 2010, NOAA created the Dolphin SMART program to encourage more sustainable ecotourism practices in regards to wild dolphins. The program prohibits swimming with dolphins and promotes the minimization of wild dolphin harassment through protocols, such as staying 50 yards away from dolphins. Our cruise this morning was through one of the 3 Dolphin SMART tour operators out of 12 on Oahu. While we didn't get in the water with spinners at Pokai Bay, our cruise took us to a separate snorkeling spot at Makaha Cavern where we saw some a number of green sea turtles!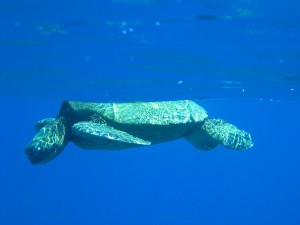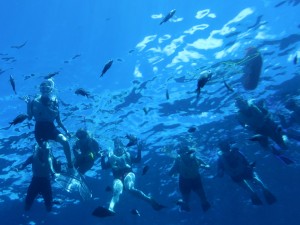 Despite being a Dolphin SMART operation, we definitely came within 50 yards of spinners, and the captain made some fairly aggressive, possibly dangerous moves towards dolphins to better view them. Carlie Wiener explained later this afternoon that aggressive driving behavior, including "t-boning" a pod so the boat is surrounded and "leap frogging", to meet a pod as they swim along a predicted path, could potentially be more harmful to dolphins than actually engaging them in the water. Carlie also told us that our experience today was rather calm compared to the normal 7 or 8 boats and 150 plus people in the water from spinner tours, all amplifying the above impacts. We (and the dolphins) were lucky we only met 2 other tour boats on our trip this morning.
The questionable success of Dolphin SMART highlights the need for increased regulation of dolphin tourism activities. Without the proper enforcement, the incentive for most tour operators to engage tourists with dolphins to the highest extent possible is too great. Until enforceable regulations are in place, the human street sweepers will continue to keep the dolphins up at night, or more accurately, at day.