Today our class headed out of the city and up to Haleiwa on the North Shore of Oahu. There were no Jack Johnson sightings (to the dismay of some), nor was surfing the North Shore's legendary waves on the syllabus, but it was an exciting day nonetheless.
Upon arriving in Haleiwa, we had the much needed chance to use our muscles for something other than the popular CEM pastimes of scrolling through readings and typing Master's Projects. As a bit of a self-professed service learning geek, I was happy to hear that today we'd be taking some time to not only learn about traditional Hawaiian resource management practices, but also to get our hands a little dirty contributing to a restoration project. We spent the morning serving with staff from the Malama Loko Ea Foundation, which is currently working to restore Haleiwa's Loko Ea fishpond. We were joined by Hawaii-based staff from Conservation International under the leadership of Dr. Jack Kittinger, Director of CI's Hawaii program. Sayo Constantino, education program director at Loko Ea, provided us with a history of the site and an overview of the cultural significance of Hawaiian fishponds, which are an ancient Hawaiian method of aquaculture and resource management.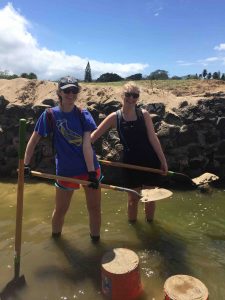 The pond at Loko Ea is estimated to be about 400 years old, once providing hundreds of pounds of fish annually to local communities and Hawaiian royalty. These ponds were part of a traditional system of land management called ahupua'a, which divided the island in a way that provided access for communities to all necessary resources from the mountains to the sea. Almost all of the ahupua'a system has been lost to modern development and only a small number of fish ponds still remain, although others are also currently undergoing restoration.
Our task for the day was to shovel out excess sand from a salt water channel which connects the pond to the ocean. Sayo explained how small fish enter the pond through this stream and are trapped within the pond, where they grow to a harvestable size. The Foundation, located on property belonging to the Kamehameha Schools and supported by organizations including CI, has been restoring the site since 2009. The time our groups spent shoveling, loading buckets, and carting away wheelbarrows full of sand will help in their efforts to deepen and stabilize the channel. This ongoing restoration serves the Foundation's mission of educating local children and communities about Hawaiian culture and sustainable resource practices.
In a past course, I learned about the concept of aloha 'aina, which is a Hawaiian phrase that translates to "love of land," and describes a deep connection between the Hawaiian people and their environment. After both visiting tourist-dominated sites on Oahu and hearing about how marine resources are monitored and managed at the federal level, our morning at Loko Ea offered an interesting contrast, and some insight into the benefits and challenges of thinking about resources on a smaller scale. As coastal management students, sometimes we find ourselves lost in the big picture, occasionally overwhelmed by the pressing problems facing marine resources at home and abroad. Our visit to Loko Ea provided a look at a community that has come together and formed partnerships supporting thoughtful resource management at the local level. The staff we met from both organizations today and their work in Hawaii epitomize my understanding of the meaning of aloha 'aina, and gave us an excellent opportunity to consider resource management on the islands from a different perspective.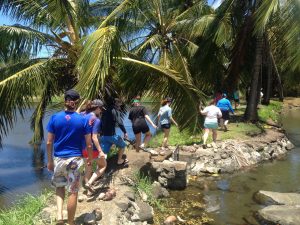 Despite a few minor sunburns and sore hands, spirits remain high and we're all looking forward to our last few days on Oahu and our upcoming trip to Kona. Mahalo to Jack, Sayo, and all the staff at CI and Loko Ea for sharing their knowledge and enthusiasm with us today, and for ensuring that we'll all sleep well (and early) tonight! A good thing, given that we've got an early date with some tuna (but more on that tomorrow).
Finally, in other news, our comprehensive assessment of local shave ice offerings is still ongoing, but rest assured that sampling is well underway and the results are promising so far. Thankfully, we are under the excellent leadership of Dr. Andy Read, who in addition to leading our motley crew has recently been named the next director of the Duke Marine Lab. Congrats, Andy!