A day of snorkeling, sampling local food favorites and learning about the concept of wilderness set the stage for further discoveries on Midway.
We began our second day ready to discover more of Oahu and see whether the underwater world had as much natural beauty to offer as we had seen the previous day on our hikes. We had a quick breakfast and made our way to Hanauma Bay Nature Preserve, which is the first site to be considered a marine conservation district in the state of Hawaii.  After paying admission fees we walked through the marine education center, which was quite impressive, with posters on the history of the bay and traditional uses as well as the types of fish, invertebrates and coral reefs snorkelers might encounter. I personally enjoyed seeing the life size models of coral reefs that were displayed along with their descriptions. After spending some time looking through the posters, we were ushered into a theatre to watch a video with themed songs on snorkeling etiquette such as not standing on coral and not feeding the fish. We were then set to walk down to the bay but took a few moments to appreciate the breathtaking beauty from above.
Our first few steps into the water were slow as we realized that the water was cooler than we had expected, but as soon as we had our masks on and heads underwater, the cold was quickly forgotten as we realized the abundance of fish species.  Due to weather conditions we could only snorkel on the inner reef and to our disappointment, there was barely any live coral to be found, however, this was compensated for by the size of parrotfish and colorful wrasses. We were struck by the variety and size of fish species present despite the thousands of tourists who visit the preserve each year. The preserve is a no-take area where fishing is not permitted and this has allowed the fish species to flourish.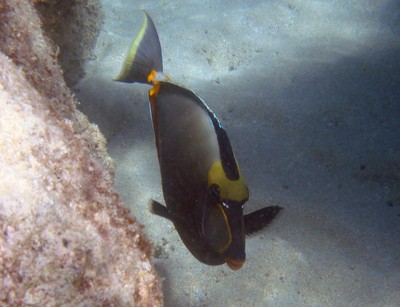 After an hour of snorkeling we reluctantly left the water for lunch at a Korean barbeque restaurant where we had different combination meals with chicken, long rice, seaweed salad, sweet potatoes and unidentifiable green vegetables.  Following lunch, we made our way to the NOAA Pacific Islands Regional Office where we met with Sean Corsen, Sanctuary Designation Coordinator, who gave a talk on the designation of the National Monument. He also discussed some of the management concerns for a monument that spans 1,200 miles, contains 14 million seabirds and more than 90 percent of Hawaii's monk seal and nesting green turtle populations.
After leaving NOAA we decided to try the following local Hawaiian sweets:
Mochi: a rice candy that's white and pink, feels unexpectedly jelly-like on your fingertips, but only a few of us actually enjoyed it in our mouths.
Li Hing Mui: a dried plum that's red and tastes extremely salty, and I personally kept going back for more, but most found it distasteful.
Shave Ice: finally something that made everyone happy, ice with all the flavors for you to choose from; guava, mango, passion fruit, coconut… to name a few. Only the local Hawaiian in the group was brave enough to add beans to her shave ice.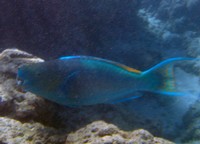 Oddly enough the weather got suddenly cold as we ordered our shave ice, so we had to enjoy our dessert in the warmth of our van. Our next stop involved food yet again, but this time we went for a more familiar meal from Pizza Hut. We picked the pizzas up and headed to Dave Johnston's house for a discussion on the development of the concept of wilderness, the founders of American land ethics as well as the philosophers who are currently at the forefront of developing a marine ethic. More importantly, he wanted us to begin thinking of our perceptions of wilderness and what it means to us as we prepare ourselves for our Midway experience.
We ended the night with Charles Littnan giving us guidance on safe interactions with the monk seals that we would encounter on Midway and he emphasized the importance of us picking up samples of scat (otherwise known as poop) from monk seals for research purposes. Those who bring scat back will be rewarded with monk seal t-shirts from NOAA, I can't wait to see how much poop we come back with.
We have to get up at 5 tomorrow morning to make it to the fish auction, so this is the end of tonight's blog…