When we first arrived on Midway all we heard was the sound of albatross 'applause,' but now we can hear individual albatross sounds and can picture the movements that accompany them. Today, our last day on Midway, we were treated to a snorkeling trip at 'Site 172' where we saw three species of large jacks, known in Hawaii as Ulua. Overall, we are grateful to have had the opportunity to study wildlife management and conservation in such a unique setting.
Thinking back on the first night that we arrived at Midway Atoll, all we could hear as we tried to fall asleep were the sounds of the albatrosses. The next morning several of us tried to describe the sounds and most of us agreed that it reminded us of a loud audience applauding and whistling, or on several mornings we would wake up thinking that what we heard were raindrops tapping on our windows. Today, we can sit with our eyes closed and listen to the albatrosses and know that what we hear is not a single cluster of noise, but rather, unique sounds made by individuals. Each of the sounds are accompanied by a certain body movement, such as shaking their heads uncontrollably during a courtship dance that sounds like drum rolls, or throwing their heads back in a long moan, or giving low caring squeaks as they prepare to incubate their eggs or new-born chick. Amazingly, we can now picture their actions just based on sounds.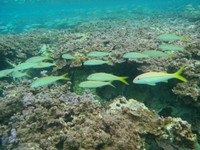 Today is our last day on the island and Barry Christenson, Refuge Manager, treated us to a second day of snorkeling. We were at "Site 172" on the eastern side of the atoll and the beauty of this site surpassed everything we had seen on snorkel trips thus far. We were blown away by the masses of goatfish, parrotfish, wrasses, angelfish, butterflyfish and larege jacks, but more importantly the habitat that supports them – the coral reefs. The reefs were spectacular fringing reefs and coral carpets that were vibrant shades of purple and yellow.
We will miss being on the atoll and are grateful for the incredible opportunity that we've been granted to study wildlife management and conservation in a unique setting where we can appreciate the presence of spinner dolphins, monk seals, seabirds and basking sea turtles all in one place.