After a morning in the lagoon watching spinner dolphins, we combed two restricted beaches to pick up trash – plastics, light bulbs, toothbrushes – to help minimize its impact on the wildlife. It is stunning to find such a hugh amount of litter so many miles from civilization!
Beautiful weather today on Midway granted us the opportunity to explore more of the island and the marine life found here.  This morning began with a boat ride into the lagoon to look for spinner dolphins.  After a short 10 minute ride outside the harbor on the U.S. Fish and Wildlife boat, we came across a group of about 25 spinner dolphins.  Our goal was to observe the dolphins' behavior and to take photos for individual identification.  Spinner dolphins spend the day close to shore resting, nursing their young and socializing.  At night, when their prey moves closer to shore, spinner dolphins will feed.  From the boat, we were able to see both resting and spinning behaviors.  The choppy conditions, even inside the lagoon made it more difficult for the spinner dolphins to rest, so we observed them switching a great deal between the two daytime activities.  The weather also made it very difficult to get photos of the dolphins for identification purposes, but we all had fun trying!
After lunch, we split into two groups to help clean up two of the restricted beaches on the island.  These beaches are restricted because Hawaiian monk seals and green sea turtles often haul out of the water onto the beach to rest.  Since both are an endangered species, having remote areas reserved for their use is important to their survival.  On the beaches, we sought to remove as much debris as possible.  In such an area as remote as Midway is, it is hard to believe that so much trash can wash up on the beaches.  No one lives anywhere near the Northwestern Hawaiian Islands.  We are 1,200 miles from the main Hawaiian islands, more than 3,000 miles from the mainland of the United States.  This trash is coming from thousands of miles away, littering the beautiful white sand beaches and posing potential problems for the marine life found here.  Albatrosses can ingest small plastics and feed them to their young.  Hawaiian monk seals can become entangled in fishing gear and nets.  Sea turtles also eat plastics and are especially attracted to plastic bags in the water that resemble their jellyfish prey.  Cleaning the beaches helps reduce the risk of injury or death to the animals found on Midway.  A variety of trash items were removed from the beaches.  Plastic floats were commonly strung along the beach; small to large pieces of plastic were everywhere.  Some of the more unusual items found were light bulbs, a toilet and seat cover, toys, lots of shoes, toothbrushes … the list just goes on and on.  There was so much trash on the beaches that we were not able to come close to removing it all in the three hours we spent cleaning.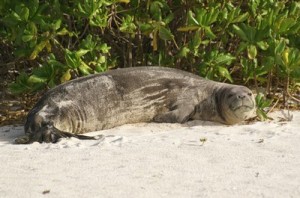 Although our goal was remove as much trash as possible, there were unexpected finds along the way.  Each group saw several Hawaiian monk seals hauled out on the beach, totaling six individuals for the day.  Laysan and black-footed albatrosses were in high number.  We also found coveted items for beach combers, including foam floats from fishing gear, beautiful shells and carapaces of sea biscuits, crabs and sea stars.  The most sought after items were glass floats.  Two different varieties were found: the traditional ball and an unusual cylindrical variety.
On our way back from removing trash from the beaches, a few of us witnessed a sad reminder to why our previous actions were so important.  We came across the skeletons of three albatrosses, each with a significant amount of plastic inside their feathers and their bones.  This plastic would have been in their stomach (see photo below).  While we don't know that this is the cause of their death, it had to have diminished their health and potential to overcome sickness.  It was a sobering moment.  Seeing how our actions can impact a species so far removed from the rest of the world really makes you sit back and look at the big picture.  In a place where the balance of the rest of the world is reversed, where the birds dominate and the humans do all they can to minimize their impact on the wildlife found here, where all that can possibly be done to reduce our impact, and where we are thousands of miles away from the nearest civilization, birds die with a significant amount of plastic in their stomach.  How did the environment get to this state?  What can we do to change this for the future?