As we snorkeled on the north side of Midway atoll, we saw a huge difference in the amount of coral and the size of the fish compared to what we observed on our previous snorkeling experience in Hanauma Bay. This raised questions for us about how to let people appreciate a site and still preserve it.
Another great day on the atoll.   Like nearly all great days, ours began with biscuits and sausage gravy.  In the morning Dave Johnston gave an excellent lecture on the oceanography of the North Pacific.  This led to several interesting discussions on predicting primary productivity, marine mammal management, persistent plastics, and a number of other relevant alliterations.
In the afternoon, the beautiful weather allowed us to take our first snorkel trip here at Midway.  After lunch we climbed aboard our boat and set out for the north side of the atoll.  When we reached a spot called Reef Hotel, we put on our wetsuits and jumped in the water.
The coral was amazing. I was immediately struck by the amount of living coral compared to Hanauma Bay, where we went snorkeling last week inOahu.  Midway is a far less hospitable environment for corals than Hanauma Bay because of its latitude. However, the hundreds of thousands of tourists that visit Hanauma Bay each year have diminished the coral there, while many parts of Midway Atoll have seen very little human pressure. (There also are many places in the atoll where there has been heavy human impact, from dredging and military activity.)
The number of fish at Hanauma Bay was comparable to the number of fish we saw today, but the fish here at Midway were far larger.  Brilliantly colored parrot fish, nearly two feet long, regularly swam by us, and a number of giant trevally, more than four feet long, would swim within a few meters of us.  We also saw many species of wrasses, butterfly fish, angelfish, and goatfish.
While most of this class has been focused on whales, seals, albatrosses, dolphins, and sea turtles, this snorkeling trip allowed us to finally see some charismatic organisms.  I'm speaking, of course, about echinoderms.  The reef was crawling with amazing echinoderms.  There were absurdly large sea urchins—nearly two feet across—nestled themselves at the base of coral heads;  keeled heart urchins burrowed in the sand; and enormous black sea cucumbers lay on the sand between coral structures.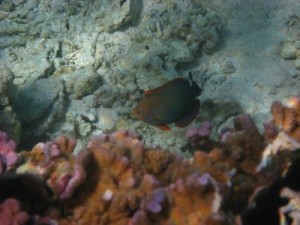 When the wind and waves started strengthening in the late afternoon we called it a day, and went back to the island.   Our experience snorkeling here and in Oahu raises some interesting questions about how to let people experience and appreciate a resource while still conserving it.  Can snorkeling be done in such a way that it does not hurt the coral?  Should we set aside certain areas as "sacrificial" plot in order to preserve other areas?  These questions can be expanded to the entire national monument.  Right now, it is extremely difficult for anyone to enter the monument, but if you want to maintain support for the monument, people have to be able to experience it.  Will Midway become the sacrificial plot of the National Monument?