ALL ABOARD!!! Next stop: Midway Atoll!!
After our dinner and beers with the Honey Badger (Charles Littnan) and other CEM alums last night, we were given a single rule for today: be packed and in the van ready to head to the airport by 3:15 PM (15:15 for those of you who think 24hr time is where it's at) or you will not be going to Midway!  So many possibilities and potential ramifications in one simple sentence. On one hand, for the first time this trip we had the entire morning and early afternoon to adventure in Oahu without a schedule or set meetings.  But on the other hand, if we lost track of time (or simply got lost) we could kiss our trip to Midway goodbye….
Today turned out to be the most perfect, beautiful last day in Oahu we could ask for–so clearly we all had the beach in mind.  But, as is normal when a group of individual spirits is given even an ounce of freedom, we broke off in different directions to some extent.  One went off to catch a few waves, others met up with some local friends for some relaxing time at the beach,  one went off for some last minute mall time, and a group of us ventured off on a brisk morning stroll to the Ala Moana Beach Park in Waikiki a few miles away.
First thing's first: we had to get our caffeine fix and some breakfast, so our stroll began with a hunt for coffee and food that ended atDown to Earth, a natural foods store with some killer organic smoothies, pastries, sandwiches, coffee (etc.)!  Once we were adequately caffeinated and satiated, our adventure to the beach continued (with some navigational assistance from our smart phones).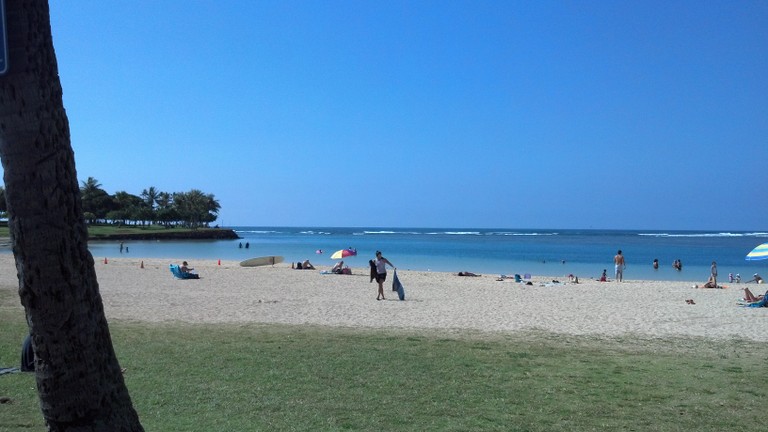 Upon arrival at the Ala Moana Beach Park, we were pleasantly surprised to find it much less populous than expected.  After quickly staking claim to a nice patch of sand and lathering up with sunscreen, we hit the water–the part we had all been waiting for!  We thoroughly enjoyed relaxing in the refreshing, cool, ocean water and basking in the warm sun on the beach after the previous fully-packed few days around Oahu.
While standing around enjoying the scenery and the water, we began to notice something popping out of the water at random intervals.  At first glance we assumed it was some snorkeler or swimmer playing around, but alas!, it was a green sea turtle!  We reacted the only way marine science nerds would react, as if we had spotted a celebrity–pointing, oohing and ahing, and mildly stalking from a distance (no we did not attempt to approach, touch, ride, or otherwise harass our new friend).  After a few teasing surfacings, we lost track of our friend…only to turn around and see ANOTHER green turtle mere feet from us!  After some extreme excitement, more pointing and stalking, this friend also eluded us.  Moments later we spotted another one in the distance.  At this point we were jumping with excitement and hoping for the paddle boarders and swimmers to "scare" them closer in to us.  Unfortunately, the turtles decided to leave (obviously they had a prior engagement) and we realized that we were becoming hungry, somewhat cold, and were running out of time.  So we slowly and sadly gave up on turtle stalking and retreated to our towels, and the warm sun.
After a quick lunch and coffee/smoothie stop, we returned and met the rest of the group in time to change, load our bags, and head to the airport (nobody was late!).  We left at precisely 3:15 for the airport.  Upon arrival at Bradley Pacific Aviation, we left our luggage to be loaded on our fancy new jet plane and proceeded to the fancy lounge where we found a nice assortment of snacks and drinks waiting.  While waiting for boarding time, we lounged in the comfortable couches and chairs, partook in the provided food and drink, and eventually discovered the free wifi at which point everyone's laptops and tablets miraculously appearing.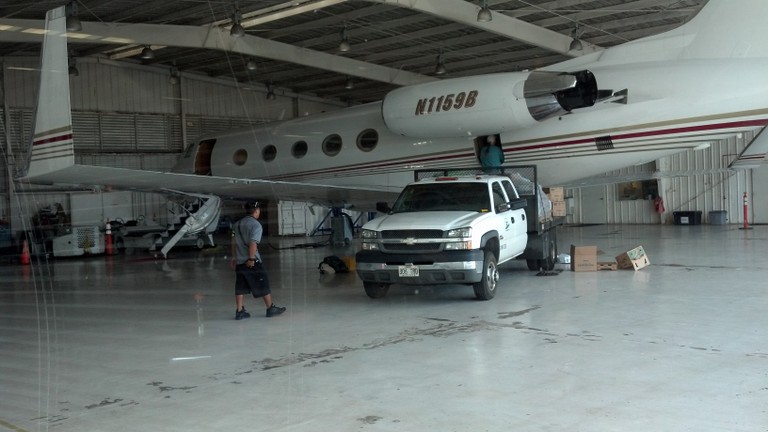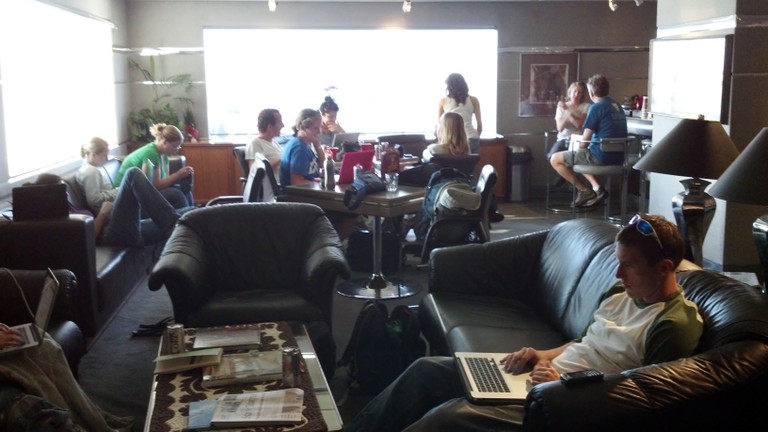 Around 5:15, we were escorted to our plane and after a brief safety overview we were on our way!  We had a beautiful view of the island during take off and then we settled in for our 3hr 10min flight to Midway.  We were treated to Subway sandwiches, an assortment of soft drinks and water, and some fresh fruit during our flight.  I've got to say, we sure seem to travel in style at Duke!  Between sleeping, reading, chatting, laughing, and snacking, the flight time flew by and before we knew it we were preparing to land…
Upon arrival, the entire island was dark aside from the lit runway.  We were greeted and welcomed by a large group of staff members and escorted to our home for the next 10 days, Charlie Barracks, in the golf cart "limo".  Along the way, we noticed that the grass everywhere was speckled with black and white patches–albatross.  At the barracks, Anne Bell and Bonnie Campbell of the United States Fish and Wildlife Service and Darlene Holst (the "money taker") were waiting to greet us with drinks, cookies, and fresh fruit.  We were briefly oriented to the barracks and the island in general then sent off to our rooms to get situated.  The evening concluded with a trip to the island's bar, Captain Brooks, where pizza and drinks awaited us.  A few hours of games, laughing, visiting, and some beers later, we all decided to call it a night…7am sure does come quickly.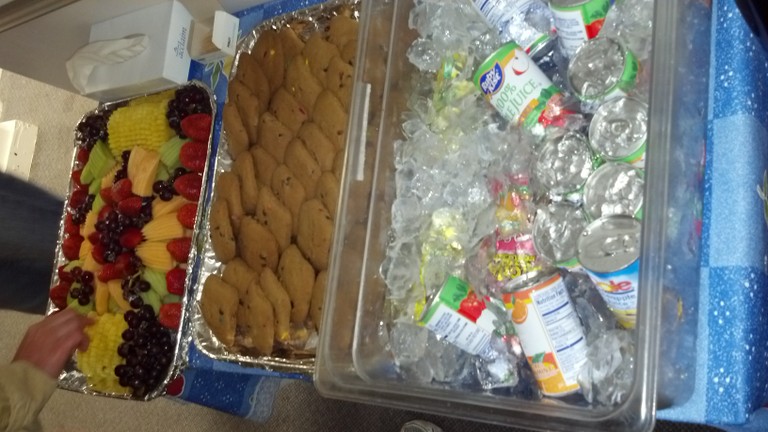 Stay tuned, our adventures are just beginning……