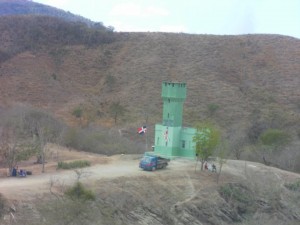 I took this photo looking out the back window of a jeep, snapping it hurriedly on my camera as we lurched our way into the eastern side of Hispaniola. A green castle amidst a desolate landscape, a flapping Haitian flag waving us quietly goodbye. My last image of Haiti is filled with a strange sadness.
Traveling over roads that were nothing more than rutted ditches and dried creek beds, we were crossing the Haitian border into the Dominican Republic. Our plans to fly out of Port-au-Prince that morning had been derailed by news that Aristide, Haiti's former ruler, had decided to return from exile. Hoping to avoid election turmoil and possible violence in the capital, we decided to attempt a dusty, daring escape through the Dominican Republic instead.
I had witnessed desperation in Haiti: arid soils, food scarcity, disease, malnutrition, and polluted drinking water. However, as we continued driving, slowly meandering into the green-forested mountains of the DR, I began to finally realize all that Haiti had lost.
In the late 1600s, France took over the western part of the island of Hispaniola from Spain, dividing the island into what is now Haiti and the DR. The border between the two nations today demarks not only linguistic differences (with French and Creole spoken in Haiti, Spanish in the DR), but also an entirely different quality of life. As late as 1960, both countries experienced essentially the same rainfall patterns and enjoyed the same geographical characteristics, availability of natural resources, and land productivity. The countries had nearly the same per capita real GDP.
Unfortunately, by 2005 much of this had changed. The Dominican Republic's per capita real GDP increased threefold, while Haiti's plummeted. Additionally, 85% of Haiti's watersheds had become degraded, and nearly a third of the land eroded (perhaps beyond repair). In contrast, the DR was making some of the largest gains globally to improve food security . The health statistics were equally telling. The average person in the DR can now expect to live a full ten years longer than their neighbor in Haiti. According to the World Health Organization, the probability of dying under the age of 5 (per 1,000 births) in Haiti is 76, while in DR, the number is less than half of that.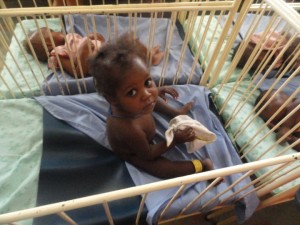 What were the connections between these statistics? How had the DR become, according to Travel Weekly, the "undisputed king of Caribbean tourism", while Haiti had become known as the "Republic of NGOs: a social, political, and economic tragedy?"
The answer may lie in a loss of green. As we crossed the border between the two countries, my eyes opened wide. Our jeep suddenly looked absurdly out of place, driving through the middle of the lush Dominican rainforest covered in brown dust from the hills of Haiti.
In 1950, forest clearing for plantations and wood exports in Haiti had largely ended, but wood harvesting for charcoal continued. A mere thirty years later, forest cover had diminished from 25% of the total land area to a meager 10%. It decreased again to 4% of the land by 1994.
Across the border, the Dominican Republic initially suffered from deforestation as well. Tree cover plummeted from 75% of the land in 1922 to 12% by the 1980s. However, massive reforestation programs and a conscious shift to alternative energy sources (besides charcoal) allowed the trees to rebound. The nation established thirteen national parks and restricted access to important forest reserves. Today, forest covers 28% of the country. Including marine sanctuaries, over 25% of the country is now protected by national parks and reserves.
Was the lack of forest and other forms of environmental protection really an explanation for the extreme forms of human suffering I witnessed in Haiti? In Haiti I held dying children, their hair turned orange in the final stages of kwashiorkor, while hours later in the DR we would stop at roadside fruit stands, filling our bags with guavas and avocados. These two disparate situations were likely the result of complex and multiple political, economic, and social realities, but could there be an environmental issue at root as well? Why had one country descended into dust, while in the other dense vegetation swatted the exterior of our jeep as we drove? Why would I leave one country in tears, and the other with memories of bachata music and Corona beer? Part of the answer is, I think, simple: ecosystem services, and on this island in particular, trees bring life.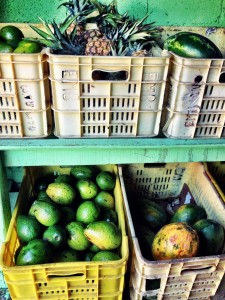 The question becomes then, why trees?
The simple answer is that forests prevent soil erosion and hold and purify water. Sturdy trunks slow winds. Roots hold the soil in place, and improve soil permeability, allowing water to percolate into underground aquifers and decreasing surface water runoff. Tree leaves lessen the impact of heavy rains, and reduce flooding. Dead trunks, leaves, and bark add organic matter to the topsoil, completing nutrient cycles and replenishing the land's topsoil. Forests act as natural buffers too, slowing floodwaters and shielding the coast from hurricane surges.
In 2004 Hurricane Jeanne killed more than 3,000 people in Haiti, while the DR lost nineteen. While other factors undoubtedly contributed to these numbers, the ability of forested coasts and watershed areas to mitigate hurricane and other natural disaster damage is undeniable.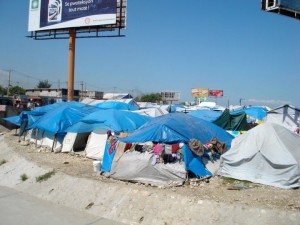 Unfortunately, today the UN estimates that "50% of the (Haitian) topsoil has been washed away into the ocean" and that damaged lands have become "irreclaimable for farming purposes." Poor environmental and agricultural policies have meant that although roughly half of the Haitian people work in the agricultural sector, the country still must import nearly half of its food to feed its population. Even with imports, nearly 30% of Haitian children endure chronic malnutrition.
While Haiti has suffered greatly in a variety ways, not least of all from serious political strife since 1960, environmental degradation remains one of the country's greatest challenges.
The memory of Haiti has stuck with me. Running along the country's dirt roads, old rainforest paths hardened nearly to cement, provided me time to think, and time to try and process the things I witnessed in the hospitals and on the streets there. Eating mashed plantains for every meal, I thought again and again about the resort towns I knew just over the border. The same island, vastly different realities.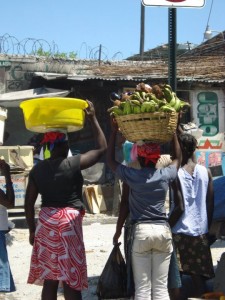 We must not only focus efforts to revive and reimagine Haiti, we must learn from its hardships. I returned home to Iowa with a new perspective and concern for U.S. agricultural and environmental policies, and the larger trends I see around the world. I eyed chemical monoculture cornfields, massive erosion events, and polluted waterways near my hometown with heightened trepidation. In 2011, my local newspaper reported that every single county in Iowa contained polluted watersheds, a number that had doubled in the last four years . Much of this pollution is linked to erosion, and the chemicals contained in many Iowa soils. Horrifying, a study by the Environmental Working Group documented that Iowa lost nearly 15 million tons of topsoil, through the month of June alone, due to poor agricultural practices and heavy rains in 2014. These numbers are astounding, and yet unfortunately very little is being done to mitigate them.
This must change. We cannot continue to view environmental policies and regulation as counter to economic growth and human happiness, but as necessary for continued life on this Earth. Hispaniola has provided the world with a serious warning of what can happen when we undervalue natural ecosystems, and overexploit our resources. Climate change and an ever-increasing human population mean that decisions have to be made now, and the future depends on integrating environmental sustainability into national policies. Humanity is not separate from the environment, but utterly dependent on it. The world is changing, and we must decide now what we want that change to look like.