One of my favorite parts about attending school in North Carolina is being so close to the Appalachian Mountains to the west of Duke and beaches like the Outer Banks to the east. A few weeks ago during spring break, my friends and I decided to explore western North Carolina. We rented a cabin in Lake Lure, North Carolina. Lake Lure, a reservoir a few hours from Durham, is a popular summer destination for water sports enthusiasts and was even one of the filming locations for the 1987 classic Dirty Dancing.
Due to the fact that we were visiting in early March, the Lake was still cold and the town relatively quiet. Not wanting to let that stop us from exploring, we decided to make the most out of the trip and attempt to find a close-by hiking trail. Less than a mile away, we found a trail by the name of Bear Head. We hiked the majorly uphill climb until we we reached on of the smaller peaks in the area. As we approached the summit, it began to snow (which to us was funny since many of our close friends were spending their breaks at tropical beaches). We embraced the cold and took time to take in the beautiful views that the hike had given us, even taking time to jump across a few boulders. Pictured below is our hiking group of Duke sophomores ('19) and juniors ('18)
Another highlight of the trip was driving 45 minutes to the city of Asheville, North Carolina. We visited shops and restaurants that allowed us to indulge in bizarre taco combinations and chocolate confections. The culture of Asheville seemed to be vastly different from the rest of the state. It was a city nestled in the Appalachians and it seemed to have a connection with the surrounding environment. Among the pride flags that lined the streets and the fair trade and organic eateries, was a city of people dedicated to their connection with North Carolina nature (see picture below). If you have never been to Asheville, despite your field of study, I highly recommend a visit!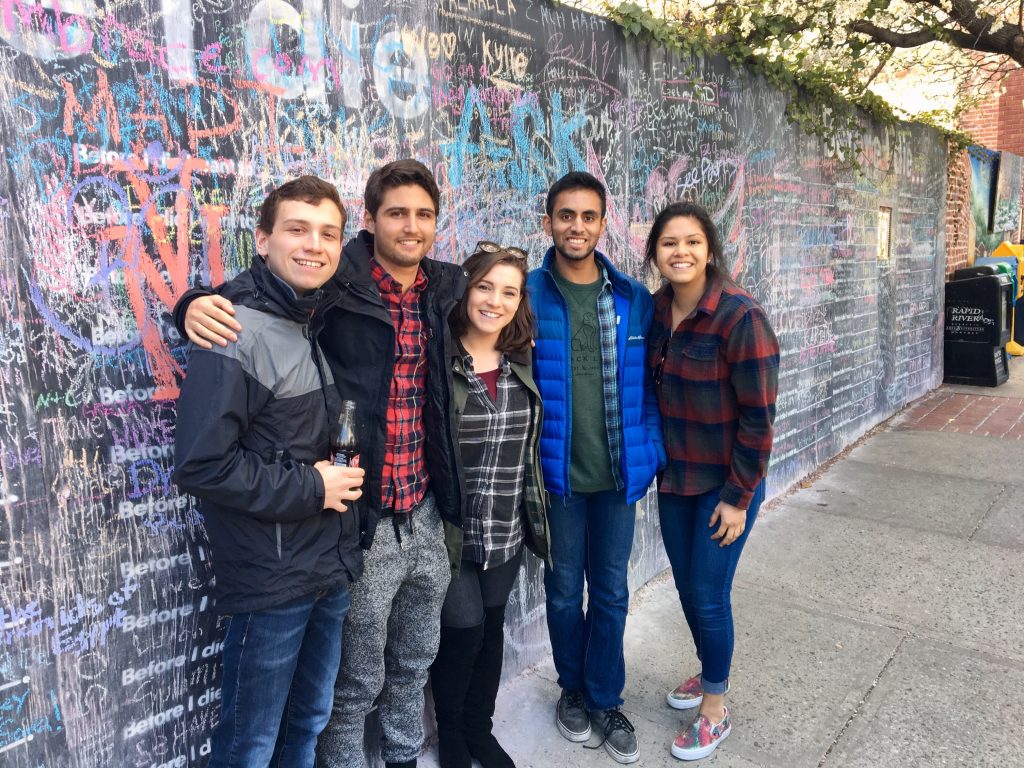 One of the benefits of North Carolina is its vast array of natural habitat that is up for exploring. Next time you have some free time in your schedule or a break from school, I highly recommend trading in the high-priced and high-stress tropical vacation for a relaxing weekend taking in the beauty of North Carolina's natural landscape.