It was another wonderful Wednesday morning aboard the RVIB Nathanial B. Palmer. We awoke to wind gusts nearing 40 knots and news that the crittercam we had deployed the previous afternoon had released very late during the night in an area inaccessible to us in the darkness.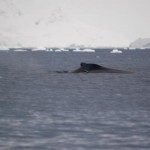 Crittercam on whale
Our plans for the day were quickly altered.  At daybreak we launched a zodiac to retrieve the crittercam (successfully!) and then began our journey south towards Palmer Station.  Palmer Station is one of three permanent stations that belong to the USA here in the Antarctic (the others are at McMurdo and the South Pole).  Scientists from around the world visit the station to study the surrounding environments and ecosystems.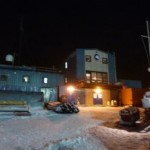 Palmer station
We were making a special trip to Palmer Station to drop off Greg Marshall, who leads the crittercam program at National Geographic,  so he could hitch a ride north with the RV Laurence M. Gould, currently at the Station and heading to Chile on the 4th.
Greg Marshall
This trip also gave the rest of us an opportunity to step on to solid land (we have been at sea for almost 4 weeks), enjoy a (very) few cold beverages, and shop (very briefly) in the Palmer Station gift shop.
During our journey to Palmer Station the visual team surveyed for wildlife from atop the ice tower (distance sampling) and from the bridge (strip sampling) in the Neumayer Channel.  We set new records for truly intrepid surveying in winds that gusted to 59 knots ("Off effort! Off effort!").  We did not see any whales or seals and only a few seabirds during this survey (limited, perhaps, by the ice crystals blowing into our eyes at 50 knots).  Perhaps the heavy winds, a common feature here, affect the distribution of animals (or at least researchers).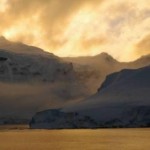 Neumayer Channel
Arriving at Palmer Station
We arrived at Palmer Station after dark (4:00 pm) and got prepared to go ashore.  Our ship cannot dock at the station; instead people must get shuttled to and from shore via the zodiacs.   With winds of 25 knots at our backs, the zodiacs transferred all of us ashore.  Everyone ran to the Station's store to buy gifts to bring back to our loved ones and beverages for us to enjoy in the Palmer Station Bar.
Welcome to Palmer Station
Enjoying Palmer Station
However, the weather gods once again intervened; within 30 minutes of our arrival the intercom blasted "abort abort! The winds have shifted and all scientists and crew must head back to the ship."  We hastily made a few purchases, chugged a cold one, and made our way back to the trusty zodiacs to carry us back home.  It was a rather wet and wild trip back to the Palmer, but we were in good hands.
While our trip was short – it was a good one!  And thanks to our RSPC crew for once again handling everything so professionally and keeping us all safe!   Also a shout out to the folks at Palmer Station for graciously hosting our rapid fire visit.
Toby gives us a musical send-off
Later last night, we performed a ceremonial dance to the weather gods in hopes of clear skies and calm winds during our last few days of work.  Only time will tell if the gods enjoyed it.